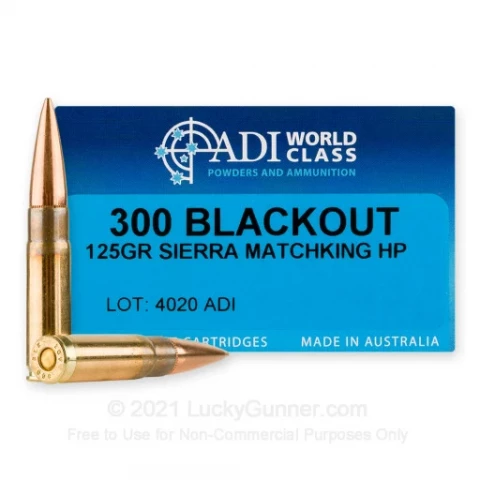 300 AAC Blackout - 125 Grain HP MatchKing - ADI World Class - 20 Rounds for Sale
Product Description
Australian Munitions is headquartered in – you guessed it – Australia. They are the chief manufacturer of small arms ammo for their country's military, and they're a key supplier to the New Zealand Defence Force as well. But the Aussie company isn't … read more strictly concerned with military ammo. Their ADI World Class subsidiary also produces match grade 300 AAC Blackout ammo, so you can do some world-class shooting with your AR-15 rifle.

This cartridge actually features one of America's best projectiles: the MatchKing, by Sierra. The round's 125 grain hollow point* bullet made two trips across the Pacific just so it could treat you to stellar accuracy.

The MatchKing's jacket is drawn to a concentricity standard of ±0.0003" in maximum variation. At that scale, any flaw in concentricity is virtually nonexistent. The MatchKing's weight is also held to a standard of ±0.3 grains, and its core is perfectly distributed because it is so seamlessly contoured to the jacket's interior geometry. This particular MatchKing also features a flat base instead of a boat tail, which offers the most consistent surface for propellant gasses to push against.

ADI World Class engineered this round's propellant specifically for optimal performance in the 300 AAC Blackout cartridge. Its match grade brass case is manufactured in-house, and it is annealed so it can perfectly conform to the chamber during ignition.

*Although technically a hollow point, the MatchKing is not designed for terminal expansion and is not ideal for hunting medium-sized game.
300 AAC Blackout - 125 Grain HP MatchKing - ADI World Class - 20 Rounds Comparisons
300 AAC Blackout - 125 Grain HP MatchKing - ADI World Class - 20 Rounds Variations
300 AAC Blackout - 125 Grain HP MatchKing - ADI World Class - 20 Rounds Questions and Answers
300 AAC Blackout - 125 Grain HP MatchKing - ADI World Class - 20 Rounds Price History