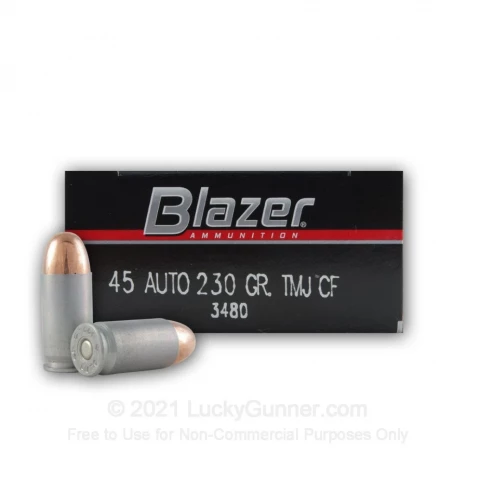 45 ACP - 230 gr TMJ Cleanfire - Blazer - 50 Rounds for Sale
Product Description
If you're looking for lead-free American made 45 Auto range ammo, then this is an excellent choice. This cartridge utilizes CCI's state of the art Clean-Fire primers and Speer TMJ bullets. This ammo is specifically tailored for indoor range ammo … read more virtually eliminating airborne lead, barium, and antimony. By removing the heavy metals, CCI has enabled this round to have a much cleaner burn.

Newly manufactured in the United States by CCI, this ammunition is great for target shooting, plinking, or range training. Each round sports a total metal jacket bullet atop a berdan-primed aluminum casing.

This product is non-corrosive and non-reloadable.
45 ACP - 230 gr TMJ Cleanfire - Blazer - 50 Rounds Comparisons
45 ACP - 230 gr TMJ Cleanfire - Blazer - 50 Rounds Reviews 5 stars
First time order.great website very fast delivery price Ok for what prices are today.i would order again from you. Not to bad
March 16, 2014
Good clean ammo
I bought this for the price so I could do some target shooting and was surprised bye the clean shooting that this ammo produces over all not to bad and I had no problems I have put about 300 hundred rounds thru my gun and again not one problem Buck013
December 16, 2013
Flawless performance, clean burning, and reliable.
Highly recommended for some inexpensive target shooting. Great ammo at a great price
I bought 2 boxes of this ammo to take out and put through my Hi-point 45 acp Carbine. The ammo shot clean and very accurate, will be buying more of this soon. All 100 rounds were on target and after breaking the gun down for cleaning found very little residue in the barrel. I would recommend this ammo to anyone it is a great price per box and it shoots very well. Every round fed… read more and went bang there were no miss fires or miss feeds. Random Person 28
May 21, 2012
Great Value
By far the best "range" ammo I have used to date. The quality of the .45 ACP ammo is extremely good. I put 1000 round through a Springfield combat 1911 with not a single misfire. Constant accuracy. Much cleaner than the Russian brands I use from time to time (mostly Wolf). If you are buying a case, the difference in price is close to $10 between Wolf and CCI. Do yourself a favor… read more and spend the extra 10 bucks and get CCI, you will thank yourself. This has become my go-to brand for range shooting. Good Shooting! Excellent Ammo
Very clean and accurate Ammo. Put 100 rounds through mu 1911 with no problems at all and when I cleaned the gun it looked liked it had never been fired. blocksterr
March 26, 2012
AMAZING
Bought 100 rounds of this ammo. Shoots clean and works great. No extraction problems or anything, runs clean. Would buy again, good quality alternative for those who don't reload.
45 ACP - 230 gr TMJ Cleanfire - Blazer - 50 Rounds Variations
45 ACP - 230 gr TMJ Cleanfire - Blazer - 50 Rounds Questions and Answers
45 ACP - 230 gr TMJ Cleanfire - Blazer - 50 Rounds Price History