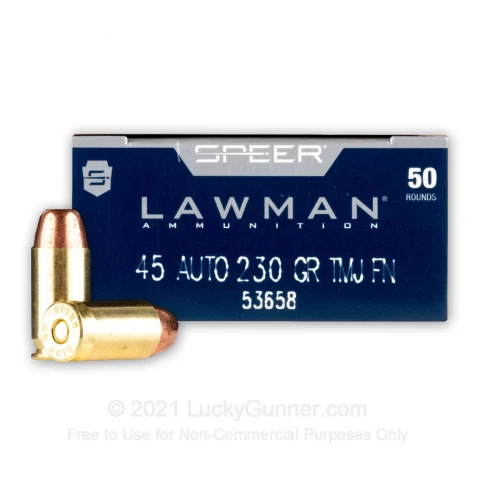 45 ACP - 230 Grain TMJ - Speer LAWMAN - 50 Rounds for Sale
Product Description
Speer® brought sport shooters and law enforcement the excellence of Lawman over 35 years ago. Back in 1968, the line included various calibers of centerfire handgun ammunition, and quickly earned a reputation as a high-performance and reliable product.

Lawman is attractively priced, and … read more the cases are reloadable with clean-burning propellants and reliable CCI primers to complete the package.

Total metal jacket (TMJ) is different from full metal jacket (FMJ) due to TMJ bullets having no exposed lead bases, this makes TMJ bullets better suited for firing in indoor ranges since there will be fewer lead particulates floating in the air after firing .
45 ACP - 230 Grain TMJ - Speer LAWMAN - 50 Rounds Comparisons
45 ACP - 230 Grain TMJ - Speer LAWMAN - 50 Rounds Reviews Good ammo
I think this is good ammo for the price. You have to have some plinking ammo that isn't a reload to test new guns, this will do just that. Dependable Ammo
This ammo runs well in my Astra 100 - I tried it for "last ditch" defensive ammo as I'd rather have a flat point than the normal ball shape for defense and I like to practice with all my defensive ammunition.
45 ACP - 230 Grain TMJ - Speer LAWMAN - 50 Rounds Variations
45 ACP - 230 Grain TMJ - Speer LAWMAN - 50 Rounds Questions and Answers
45 ACP - 230 Grain TMJ - Speer LAWMAN - 50 Rounds Price History