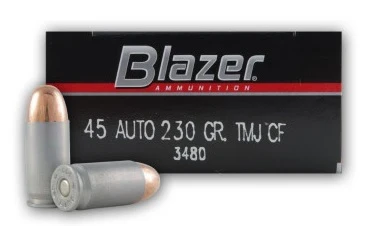 45 ACP - 230 Grain FMJ - Tula - 50 Rounds for Sale
Product Description
This newly manufactured 45 Auto ammunition is PERFECT for target practice, range training, or plinking. It is both economical and reliable and is produced by one of the most established ammunition plants in the world.

Tula ammunition derives its name from … read more its birthplace, the Tula Cartridge Works in Tula, Russia.

The Tula Cartridge Works was founded in 1880 and is currently one of the largest ammunition manufacturing plants in the world. The Tula name has gained a following worldwide for its rugged, reliable, and economical product. This cartridge complies with CIP requirements and the casing features a polymer-coated steel casing with a non-corrosive Boxer Primer. The projectile features a bimetal jacket (contains steel and copper) and a lead core resulting in excellent ballistics characteristics.

Muzzle Velocity: 850 fps
Max Pressure: 19,900 psi
45 ACP - 230 Grain FMJ - Tula - 50 Rounds Comparisons
45 ACP - 230 Grain FMJ - Tula - 50 Rounds Reviews Good Product!
Good Product! Great value
Accurate and easy to shoot. This purchase was a great value. Decent rounds to save money on the range
Though I had no issues with TULA's 45ACP steel ammo, I think I am more impressed with my Glock 30 that was firing them. That Glock just spits whatever you feed it, every, single, time. Only complaint is this steel cased ammo is dirty. TULA definitely uses the lowest quality gun powder on the market. Expect the GSR to be extra thick and extra dirty. Good quality
Great rounds for the range. Fired 100 rounds with my Kimber Custom II and no problems at all. Tullo .45
February 17, 2016
Functioned Fine/Burns A Tad Dirty
Really I have no complaints, it did what I thought it would do which is fire straight and dirty, my Citadel .45 cycled these just fine and I have no complaints. Probably won't purchase again for me but they are fine for range time and impossible to beat for price!!! Dirty - Misfired - Don't Buy
While I have had some luck with these rounds, after firing ten rounds yesterday, I noted that the recoil was very inconsistent - the next round fired and the bullet never left the barrel of my Hi-Point carbine. The bullet is lodged in the barrel and if I hadn't of felt the change in recoil, the next round would have most likely resulted in a catastrophic failure & who knows what… read more else. Let the Russians keep these rounds for their own use -as for me, I will dispose of the remaining rounds and try to save a couple of bucks again - just not worth it. Great ammo!
I use this ammo with my S&W M&P45 and my gun loves it! I have never had a malfunction and it cycles really smoothly. It is cheap, so I can afford to shoot a lot on the range and hone my sidearm skills! TRY IT NOW! ROEdkill
September 1, 2015
Worth it no worries. But be aware.
A little flare up and particles when firing because of the type of casing but other then that great. I actually liked this more then Wolf. Mr Johnson
January 29, 2015
Dirty dirty dirty
6 mags ran in colt 1911 First mag great 2,3,4,5 several jams 6th mag good Gun was perfectly clean when starting And the filthiest I ever cleaned when done Oldgunner43
December 22, 2014
Use on indoor ranges is generally restricted.
This is great practice ammo for outdoor range use. However, most indoor ranges won't allow it to be used because of its bimetal (copper & steel) jacket. So far, I've found this to be true on five different indoor ranges. That's my only reason for giving 4 stars on quality. They also won't allow you to use Wolf ammo. Every round worked flawlessly
Ran 50 of them through my Remington 1911. ZERO issues. no feeding problems, and they all went bang. I'll certainly run these rounds again. Little difficulty in loading - but acceptable
excellent delivery - will purchase again
45 ACP - 230 Grain FMJ - Tula - 50 Rounds Variations
45 ACP - 230 Grain FMJ - Tula - 50 Rounds Questions and Answers
Asked by
test
2 years ago
Asked by
Admin
2 years ago
Asked by
Unknown
2 years ago
Hello Joachim, This ammunition is loaded with a lead core, bi-metal jacketed projectile. This ammunition is not loaded with a solid copper projectile.
45 ACP - 230 Grain FMJ - Tula - 50 Rounds Price History