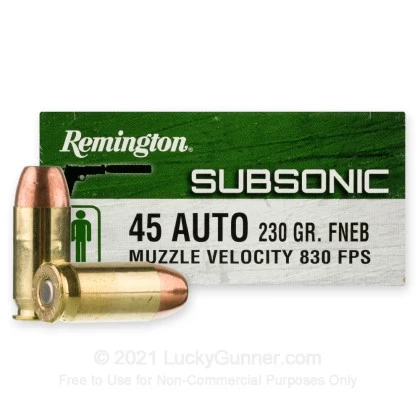 45 ACP - 230 Grain FNEB - Remington Subsonic - 50 Rounds for Sale
Product Description
Do you have a 45 ACP handgun? Do you also have a suppressor? Then all you need now is the ammo. Remington and Advanced Armament Corporation codeveloped this ammo so you can maximize your suppressed handgun's performance.

The 45 ACP is already a … read more subsonic cartridge, and Remington's Subsonic label ammo certainly doesn't reinvent the wheel in that department. What this cartridge offers that's special is its bullet: a flat nose enclosed base. No part of the bullet's core is exposed to hot propellant gasses during ignition, so you can look forward to not having to scrub any lead residue off of your suppressor's ports or baffles.

This bullet's flat nose profile won't deliver terminal expansion. But if your objective is to avoid deafening yourself while you use your handgun during home defense, you'll still find 230 grains of lead and copper suitable for the job. This bullet transfers more than 320 ft lbs of energy over any distance your home could possibly contain.

Even if it hasn't got a suppressor, your handgun should have zero difficulty cycling this brass-cased, non-corrosive and clean-burning American-made ammunition.
45 ACP - 230 Grain FNEB - Remington Subsonic - 50 Rounds Comparisons
45 ACP - 230 Grain FNEB - Remington Subsonic - 50 Rounds Variations
45 ACP - 230 Grain FNEB - Remington Subsonic - 50 Rounds Questions and Answers
Asked by
Unknown
1 year ago
Hello, Im looking for practice amo for a 1911 Springfield 45 cal. What would you recommend? Thanks
Thanks for reaching out sir! For training with a 1911, I prefer an FMJ round nose cartridge loaded to a muzzle velocity as close to 830 fps as possible. I believe you'll be happy with Federal American Eagle, Minnesotan ammo which is pretty much a staple a
45 ACP - 230 Grain FNEB - Remington Subsonic - 50 Rounds Price History