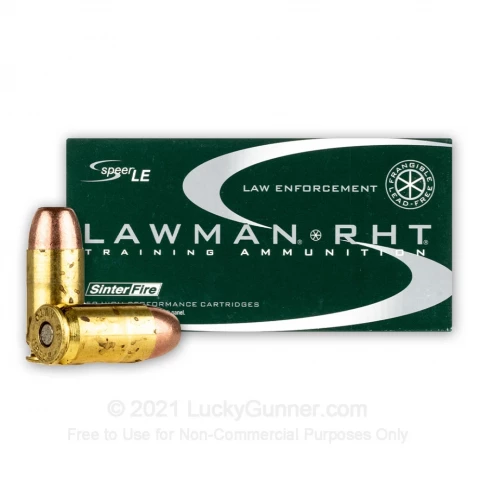 45 ACP - 155 Grain RHT Frangible - Speer Lawman - 50 Rounds for Sale
Product Description
Even the most cautious shooter is subject to certain dangers when they train. Shooting at steel targets and against hard backdrops presents a real risk of splash-back, where copper and lead fragments ricochet back to do serious damage. Splash-back is also a … read more common problem at indoor ranges, where poor ventilation may also cause toxic lead to linger in a carcinogenic haze!

But Speer's Lawman line of ammunition works to make all those risks moot. This 45 ACP cartridge features Speer's 155 grain Reduced Hazard Training projectile. The frangible bullet is comprised of 100 percent compressed copper particles, which are hardened but not fused together in a process called sintering. The RHT accordingly stays intact as it feeds and fires, but crushes itself into powder when it slaps a steel target or other hard surface. And in conjunction with this round's heavy metal free Clean-Fire primer, the RHT poses no threat of producing airborne lead that could have accumulated indoors.

This round's lightweight bullet grants it a fast muzzle velocity, although you will find Speer's training ammo reliably mimics many other conventional self-defense loads. Speer gives their RHT a distinctive pattern on its tip for easy identification, and complements it with a new brass case and clean burning propellant for superior functionality in a semi-auto.
45 ACP - 155 Grain RHT Frangible - Speer Lawman - 50 Rounds Comparisons
45 ACP - 155 Grain RHT Frangible - Speer Lawman - 50 Rounds Variations
45 ACP - 155 Grain RHT Frangible - Speer Lawman - 50 Rounds Questions and Answers
Asked by
Unknown
1 year ago
Is this ammo good to stop a threat in home defense? Can I open carry with it hoping to have effectiveness if I ever had to stop a threat?
Thanks for reaching out Greg! Frangible ammo is certainly capable of incapacitating a threat, although it's terminal ballistics are far less effective than those of a JHP bullet. I'd only recommend this ammo for personal protection if you are extremely co
Asked by
Unknown
1 year ago
Have you at LG performed any tests with this ammo? Question #2) Is thete any reason to believe this ammunition has the capacity to be useful for self defense purposes, except in circumstances whereby the mark / assailant is NOT wearing body armour or even
Thanks for reaching out Eric! We have not performed the FBI test protocol or any other ballistics testing with this ammunition. Speer themselves have recorded this ammo's in-flight ballistics within 100 yards, thoguh they have not reported its performance
45 ACP - 155 Grain RHT Frangible - Speer Lawman - 50 Rounds Price History