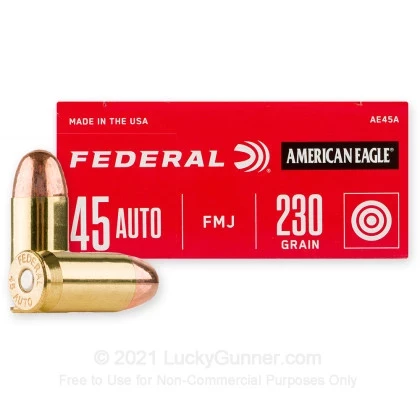 45 ACP - 230 Grain FMJ - Federal American Eagle - 50 Rounds for Sale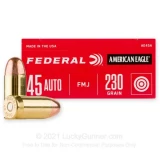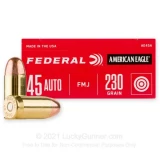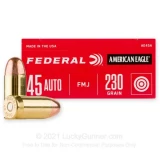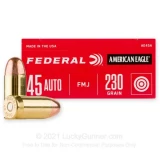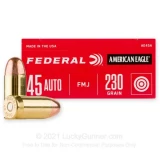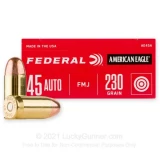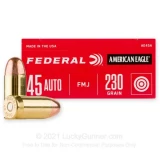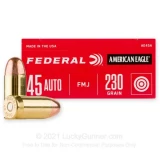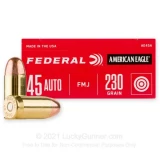 Product Description
Manufactured under Federal's American Eagle brand, this product is brand new, brass-cased, boxer-primed, non-corrosive, and reloadable. It is a staple range and target practice ammunition.

This is top of the line, American-made range ammo made by ATK (same company that makes … read more Speer Lawman, CCI, Blazer Brass, etc) - it doesn't get any better.
45 ACP - 230 Grain FMJ - Federal American Eagle - 50 Rounds Comparisons
45 ACP - 230 Grain FMJ - Federal American Eagle - 50 Rounds Reviews Bang Bang!
Arrived very quickly. Cycles very well. Not much residue for clean up. got a 50 ct. Hole in the target at 60 ft. Good Ammo at a decent Price
Took it to the range...no problems...no hang ups....seems to do just what it was ordered for...would buy again. Great Customer Service; Great Selection
Great ammo; great service. Had it for sale when others did not. Not much more can be added to that. Great Place to Shop for Ammo
Lucky Gunner was one of the first companies back on-line filling Internet orders--I was most grateful. Shipping was lightening fast--great customer service. Perfect product
Perfect for the range 911Roadtripper
October 4, 2014
Outstanding!
Wide selections, easy-to-use website, rapid and accurate delivery, wonderful ammo, what more can you ask?! Excellent
Tried a variety of .45 ACP over the past year and Federal American Eagle is now the only ammo I shoot at the range. Consistent quality and performance and it shoot CLEAN. Reasonably priced - stock up when you can and shoot happy! Great product and highly recommended! Tony The Tigrr
January 23, 2014
Shoots a lot cleaner
First time I shot American Eagle ammo in my SA 191145ACP. This ammo is cleaner than the Remington and Winchester I have been using. When I cleaned my gun the difference really showed. Was about half as dirty as usual! Great Service, Availability & Easy to Shop
Lucky Gunner is awesome! Easy to select any variety of ammo. Always in stock. You immediately see the cost per round; any variety available. Hang on to the grip when you pull the trigger. This ammo packs a punch. love you
Your service is great and the products are excellent. THAT IS WHAT BUSINESS IS ALL ABOUT- keep it up. Adam Fiedler AKA Jay Good customer service
Arrived timely and in great condition. Had a glitch on my web order and got outstanding customer service and follow up. Ammo performed excellent. Clean Practice Ammo
LG was right on with delivery! I have always received my goods in 3 business days here in Ohio. Colorful packaging and 'Bright' brass in a great plastic cartridge holder. Ammo performed consistently however, I have a FTF about every box and a half. Practice ammo for sure, a touch high on the $ side considering the FTF. My XDs makes consistent hole… read more patterns!
45 ACP - 230 Grain FMJ - Federal American Eagle - 50 Rounds Variations
45 ACP - 230 Grain FMJ - Federal American Eagle - 50 Rounds Questions and Answers
45 ACP - 230 Grain FMJ - Federal American Eagle - 50 Rounds Price History