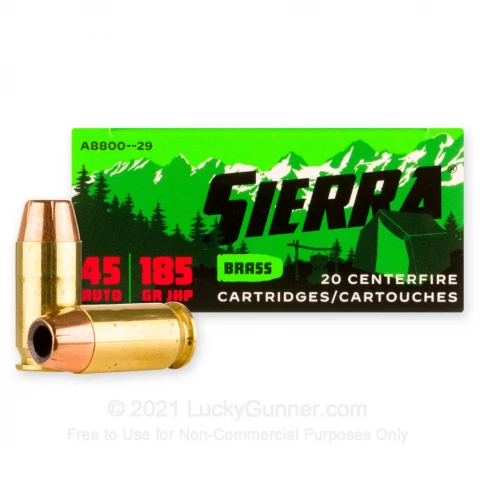 45 ACP - 185 Grain JHP - Sierra Outdoor Master - 20 Rounds for Sale
Product Description
Need 45 ACP ammunition for self-defense? Let Missouri's best scratch that itch for you by ordering a box or two of Sierra Outdoor Master ammo.

This round features the 45 ACP's lighter 185 grain bullet. Expect a fast 995 fps muzzle velocity and … read more flat trajectory because of that. Even at 50 yards this round delivers approximately 345 ft lbs of energy, which is still greater than the minimum typically advised for personal protection.

This round's JHP bullet is built for terminal expansion. Sierra's Power Jacket has a tapered profile which helps an auto-loading pistol feed more efficiently. The Power Jacket's rim wears multiple skives that ensure expansion takes place under a wide range of conditions, as well as following impact at several different angles. This bullet's lead core is additionally engineered to promote more reliable expansion over a wide range of velocities.

Sierra's nonmagnetic bullet is precision seated in a new production brass case. Sierra, which is very popular for their match and hunting bullets, spare no time loading their Outdoor Master ammo's noncorrosive Boxer primers and clean-burning propellant to ensure consistent recoil, aim and ballistic performance.
45 ACP - 185 Grain JHP - Sierra Outdoor Master - 20 Rounds Comparisons
45 ACP - 185 Grain JHP - Sierra Outdoor Master - 20 Rounds Reviews Nate From Los Alamos
August 29, 2021
Awesome ammo at a totally fair price
This stuff performs great out of my FNX 45 Tactical both with and without my Silencerco Hybrid attached. I had a few problems with UPS shipping my orders but the excellent team at Lucky Gunner resolved any issues I had and because of their extremely prompt handling of my issues I am making Lucky Gunner my preferred supplier for ammo in the future Happy Hunter
July 26, 2021
affordable good rounds
Ordered my rounds , and also some from other sites, these came super fast and shot extremely well, nice grouping in my Glock 21!
45 ACP - 185 Grain JHP - Sierra Outdoor Master - 20 Rounds Variations
45 ACP - 185 Grain JHP - Sierra Outdoor Master - 20 Rounds Questions and Answers
45 ACP - 185 Grain JHP - Sierra Outdoor Master - 20 Rounds Price History