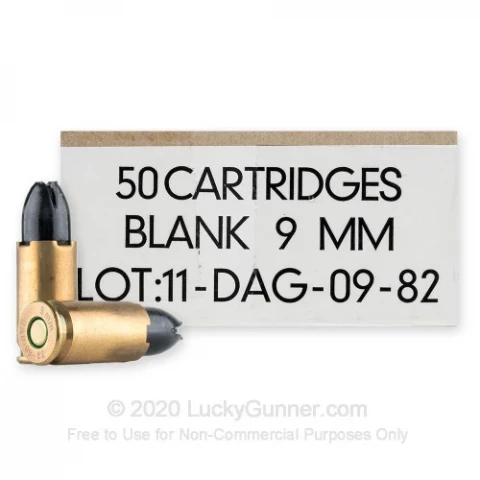 9mm - Blank - DAG - 50 Rounds **BLANK ROUND** for Sale
Product Description
This is blank ammunition. It is designed to function in submachine guns that are equipped with blank-firing adapters. It will fire in 9mm handguns, although it will fail to cycle a semi-automatic unless it is heavily modified.

Some occasions don't call for bullets. … read more If you're training a dog to ignore the sound of gun shots, he'll learn his lesson just as effectively if nothing can actually get shot. If you're simulating gunfire during a training exercise, it's usually best to leave bullets out of the equation, too. And if you're filming a movie, few actors are committed enough to "realism" to risk actually getting hurt.

This blank 9mm ammo is made by Dynamit Nobel AG of Germany. Each round has a plastic dome covering its case mouth; this is only to facilitate reliable feeding, as the plastic will be blown to smithereens during ignition. These brass-cased rounds are equipped with non-corrosive Boxer primers – as well as real propellant.

Under no circumstances should you treat this or any other blank ammo like a toy. Its white hot propellant gasses are capable of causing injury or even death at close range.
9mm - Blank - DAG - 50 Rounds **BLANK ROUND** Comparisons
9mm - Blank - DAG - 50 Rounds **BLANK ROUND** Reviews If you dont have full auto, or a typo e of gun that has movie mods to re-chamber from WAY less blowback, you will likely not cycle more than a couple rounds before failure to chamber.
So no, it's not a bad bullet, its actually your trusty Glock not having enough force from firing a projectile to make it snappy enough for it to work semi auto properly, but with small body 9mm you might have more luck though I havent tried it to test, just sounds like in theory the easier time the slide has going fully back on the recoil from its lightweight size, the more likely… read more these rounds will still have enough kahones to keep the mag running for you. A GOLD BALL LAUNCHER TIP WILL WORK GREAT WITH THESE! Since you only shoot one round at a time with the screw on the piece, (Ebay, 29.99 for threaded barrels, also comes in rifle tip size for .223) you probably wont mind the time spent chambering the next round if you also gotta go try and find your golf ball you just shot way in the rough to blow your chance for a birdie on that hole.. and like always, dont shoot at your friends. Or yourself. Or anything you wouldn't shoot with a "real" round, and if you dont think you should take that advice then you've obviously never watched The Crow. Might not be the jams you expect.
2 rounds went fine, of course did not cycle as expected which can be a nice training tool in itself. Then the third one... Inspected all them before use, but this one decided to be an especially annoying issue. The round not only jammed, but it jammed HARD. Took 5 minutes of heavily attempting to pull the slide back, till it finally popped out. Either it expanded in a way that the… read more gun hated, or perhaps the dislodged primer caught something? Not sure, but either way I'm not sure these are currently worth the hassle. Still glad a good price, but I shall not purchase something like this again. (Not bashing luckygunner.com, in fact only they seem to currently sell these so kudos to them) I keep missing the target with this ammo. I can't even get the rounds on paper.
Something is wrong with this ammo. I can't hit the target. Maybe I need more practice.
9mm - Blank - DAG - 50 Rounds **BLANK ROUND** Variations
9mm - Blank - DAG - 50 Rounds **BLANK ROUND** Questions and Answers
9mm - Blank - DAG - 50 Rounds **BLANK ROUND** Price History