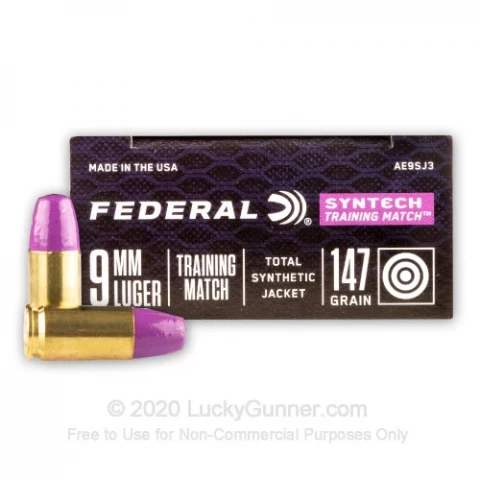 9mm - 147 Grain Total Synthetic Jacket FN - Federal Syntech Training Match - 500 Rounds for Sale
Product Description
This 9mm cartridge from Federal's Syntech Training Match line of ammunition is truly special. Its 147 grain projectile does away with traditional copper for its jacket in favor of Federal's proprietary polymer Total Synthetic Jacket. This confers numerous benefits to enjoy during … read more training, including substantially less bore fouling that impacts accuracy as time wears on, the prevention of metal-on-metal contact which shortens a barrel's lifespan, and the virtual elimination of splash-back that could put you in harm's way. This bullet further features a flat nose profile that is ideal for training with paper targets, and is colored a distinctive shade of purple to prevent you from accidentally mixing your training ammo with your self-defense loads.

Federal took your health into consideration while designing this round. That's why they drew its jacket to envelope the bullet's base so as to prevent you from breathing in aerosolized lead during ignition, and equipped it with a heavy metal-free Catalyst primer. These brass cased rounds nearly perfectly mimic the performance of Federal's HST line of self-defense ammo, making training with them immensely rewarding.
9mm - 147 Grain Total Synthetic Jacket FN - Federal Syntech Training Match - 500 Rounds Comparisons
9mm - 147 Grain Total Synthetic Jacket FN - Federal Syntech Training Match - 500 Rounds Reviews Great ammo
Great ammo clean. No problems Surprisingly pleased with this ammo. Originally purchased for the wife, as she loved the color (matched her glock fairly well). But after shooting she was even more pleased. All performance and quality did very well through that pink model 19 of hers. As
Keep up the good work.
9mm - 147 Grain Total Synthetic Jacket FN - Federal Syntech Training Match - 500 Rounds Variations
9mm - 147 Grain Total Synthetic Jacket FN - Federal Syntech Training Match - 500 Rounds Questions and Answers
9mm - 147 Grain Total Synthetic Jacket FN - Federal Syntech Training Match - 500 Rounds Price History