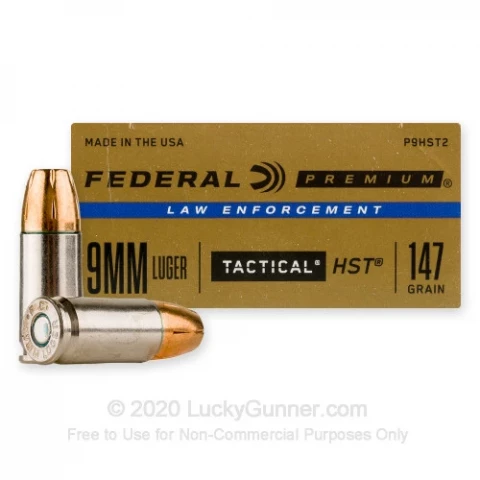 9mm - 147 Grain HST JHP - Federal Premium Law Enforcement - 50 Rounds for Sale
Product Description
Federal's Premium Law Enforcement HST line of JHP duty ammunition offers massive expansion! This duty load has a pre-skived bullet tip which causes the bullet to expand into large petals that cause a large permanent wound cavity. The unique design … read more of this bullet actually forces the lead petals during expansion to protect the copper petals behind them. This results in increased weight retention allowing it to still achieve deep penetration through a variety of barriers prescribed by the FBI test protocols.

This product is brand new, nickel plated brass-cased, boxer-primed, non-corrosive, and reloadable.

This is top of the line, American-made defense ammo made by ATK (same company that makes Speer Lawman, CCI, Blazer Brass, etc). This product is designed for Law Enforcement and occasionally made available to the general public through police trade-ins.

- it doesn't get any better.
9mm - 147 Grain HST JHP - Federal Premium Law Enforcement - 50 Rounds Comparisons
9mm - 147 Grain HST JHP - Federal Premium Law Enforcement - 50 Rounds Reviews This is reliable ammo, no issues with performance.
I'm impressed with how easy it was to order ammo, connect my permit to the order and get the order released for shipment. Nice work keeping the regulatory requirements in line and not letting it delay your fast service. Accurate, reliable ammo
After previously using the 124gr HST in my carry pistol, I decided to switch to the 147gr. The recoil is just slightly heavier in the 147gr, but not enough to matter. Accuracy & reliability were great. dstuart1969
August 19, 2021
Federal HST just works
The 147 grain performed well in my p365 and the American Eagle 147 grain is a compatible practice ammo. Home defense ammo
Federal HST is my go to ammo for home defense and my daily concealed carry ammo. Reliable and accurate. With Lucky Gunner the price was right and shipping was fast. Great ammo.
Keep doing what your doing.Good prices. I am very happy buying ammo from ya'll . Great deal on great ammo
Best deal I've found Don't know I still have not gotten iy
None Sweet ammo and great quality.
Got my first pew,pew..and bought this ammunition for defense purposes. Did use half of the 50 rounds . They worked perfectly with a little kick. I gladly bout more due to the quality and the affordable price. redrockdawg
July 26, 2021
hst's
I use these 147 HST's for my concealed weapon carry daily in 9mm and 40sw, 180 hst. The ballistic gel testing of this ammo has been one of the best in expansion and penetration. This is why I use this in all my carry guns. The next best ammo that I use is the Winchester T series ammo which I also purchase when I cannot purchase HST's. Reliable ammunition at a decent price. I have shot hundreds of rounds and not one negative issue.
Outstanding ammunition, the Federal HST is my go to ammunition for personal protection. The best
I carry 147gr hst LE in my Glock 43 everyday, everywhere I go, I would highly recommend this round to anybody, I gave it 3 stars on value because it is a premium bullet so it is on the more expensive side but buy it while you can shoot a few rounds make sure it functions properly and load up and save it, but overall if your on the fence about this don't be it's one of the very best,… read more I would love to use the 124gr hst but I've been lucky to find a few hundred rounds of the 147gr again, I prefer heavy weight for caliber, lock and load
9mm - 147 Grain HST JHP - Federal Premium Law Enforcement - 50 Rounds Variations
9mm - 147 Grain HST JHP - Federal Premium Law Enforcement - 50 Rounds Questions and Answers
9mm - 147 Grain HST JHP - Federal Premium Law Enforcement - 50 Rounds Price History