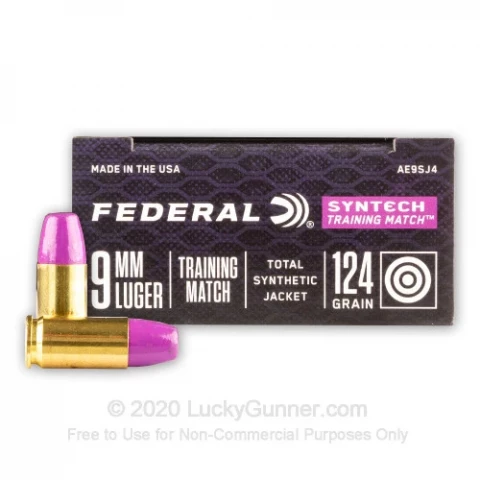 9mm - 124 Grain Total Synthetic Jacket FN - Federal Syntech Training Match - 500 Rounds for Sale
Product Description
It's one heck of a cartridge: Federal's Syntech Training Match, which very nearly perfectly simulates how the Minnesotan authority's HST ammo performs. This 9mm round will give you real experience as to how your EDC is going to behave during a violent … read more encounter.

But that alone isn't what makes Syntech Training Match impressive. This cartridge's 124 grain projectile features a Total Syntech Jacket, purple polymer which not only eliminates metal fouling but furthermore drastically lessens friction to lengthen a barrel's lifespan. This bullet's futuristic jacket limits splash-back that could occur to a virtual goose egg, and its flat meplat also suits it for neatly perforating paper targets.

The TSJ encapsulates the bullet's base, which alongside this round's clean burning Catalyst primer will keep your immediate area devoid of aerosolized carcinogenic lead. The Catalyst still sparks exceptionally hot to provide near instantaneous ignition of the propellant, so you're assured a perfect shot every time. Federal's high quality brass casing neatly houses these cutting edge components, and is reloadable.
9mm - 124 Grain Total Synthetic Jacket FN - Federal Syntech Training Match - 500 Rounds Comparisons
9mm - 124 Grain Total Synthetic Jacket FN - Federal Syntech Training Match - 500 Rounds Reviews Great ammo and vendor!
Thank you for providing a quality product at a price I can afford to practice with! The Syntech 9mm 124g performs flawlessly in my G27 converted to 9mm. My gun ran cool and was considerably cleaner.Your pricing allows shooters to buy in bulk which is critical for personal defense training. Your pricing on Speer Gold Dot allows me to affordably practice with my EDC ammo as well .… read more I am a Lucky Gunner for discovering you!
9mm - 124 Grain Total Synthetic Jacket FN - Federal Syntech Training Match - 500 Rounds Variations
9mm - 124 Grain Total Synthetic Jacket FN - Federal Syntech Training Match - 500 Rounds Questions and Answers
9mm - 124 Grain Total Synthetic Jacket FN - Federal Syntech Training Match - 500 Rounds Price History