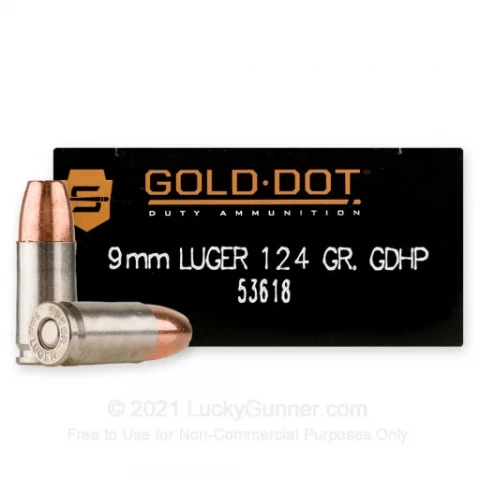 9mm - 124 Grain JHP - Speer Gold Dot LE - 50 Rounds for Sale
Product Description
Speer Gold Dot continues to be the #1 duty ammunition for law enforcement agencies. Law Enforcement agencies prefer Speer ammunition for duty use due to its performance in the rigid FBI test protocols. What makes Speer perform so well through … read more the various barrier tests such as compound angle auto glass is that Speer bullets undergo a unique bonding process which prevents core jacket seperation.

The folks at Speer interact with law enforcement agencies on a daily basis and are keen on ensuring that law enforcement officers have the right tools for the job so that they can return home safe to their families. This ammo is great for duty use or home defense.

Speer Gold Dot Ammunition is loaded with bonded core bullets and designed for critical defense needs.

Bonding the jacket to the core means the elimination of core-jacket separation and superior weight retention making it more effective than traditional hollow-point bullets in the event that the bullet encounters bone or heavy clothing upon entry.

This ammunition is new production, non-corrosive, in boxer primed, reloadable nickel-plated brass cases.
9mm - 124 Grain JHP - Speer Gold Dot LE - 50 Rounds Comparisons
9mm - 124 Grain JHP - Speer Gold Dot LE - 50 Rounds Reviews The Ginger Joker
November 7, 2021
Awesome, accurate, consistent, and sick performance !!!
So reliable and shootable in my G19g5 - used to buy whatever I could find and tried a lot but after getting a taste from my shooting buddy (its his regular carry load) and now im addicted to them - i know they're more accurate than I van shoot and any expansion in testing is explosive and mushrooming is huge - they make me a better shooter. But, don't take my word for it- get… read more a box or 2 of your own and you'll see. Deermaster
August 17, 2021
Really Surprised
Fired 100 rounds with three different pistols and three brands of ammo. All ammo and pistols shot five inches low and two inches to the right at ten yards using 115 grain bullets. All pistols dead on at ten yards with Speer 124 grain Gold Dot bullets. Pistols used were a Sig 938, Walther PPQ and Taurus G3. (Taurus G3 the most Accurate of all.) High quality ammo at in incredible price
I am a huge fan of this ammo. The cycle through all of my handguns without fail. The price is better than any place I have found. I will definitely be purchasing more! you cant go wrong with gold dot
good ammo No issues…all good !
I am a very satisfied customer. And Chris Baker is awesome! GREAT SD Ammo
One of 2 bullet lines I've NEVER had fail in testing of MULTIPLE calibers. Docked 1 star in value because of the current ammo shortage/price hikes Can't go wrong with Speer.
Speer GD are simply some of the best ammunition on the market best carry ammo for the 9mm
keep up the great work Good ammo for self defense
I haven't had a chance to shoot any yet but all of the ammo i have bought before has been reliable and never failed. Speer Gold Dot 124gr 9mm jhp
First let me say that Luckygunner 's testing of this round help me save money by not have to buy a lot of different defensive rounds to test in my weapon. I was able to narrow my search to 3 items. I'm part of my safety team at my church and was looking for a round that was accurate , function well and was consistent in its ability to expand upon impact, also very important not… read more to over penetrate. I fire this in my CZ 75D compact 3.7 in barrel and it meets my expectations with no malfunctions. Thank You again for your testing of this and the other rounds ,it is very helpful and in the long run saved me a lot of time and money. Great Deal ????
Thanks guys for the awesome ammo. Glad y'all have everything I need in stock. 5 stars ⭐️ ⭐️⭐️⭐️⭐️ Torque0265
April 22, 2020
I LOVE THIS AMMO!!!!
Recommended HIGHLY!!!
9mm - 124 Grain JHP - Speer Gold Dot LE - 50 Rounds Variations
9mm - 124 Grain JHP - Speer Gold Dot LE - 50 Rounds Questions and Answers
9mm - 124 Grain JHP - Speer Gold Dot LE - 50 Rounds Price History