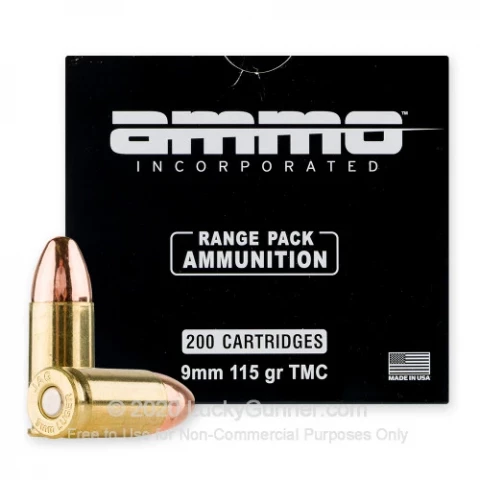 9mm - 115 Grain TMJ - Ammo Inc. - 1000 Rounds for Sale
Product Description
"Cleanliness is next to godliness." That would place this 9mm ammunition by Ammo Inc. right among the divine, because it will help to keep both your pistol and your breathing environment much, much cleaner.

This cartridge features a 115 grain total metal coating … read more projectile (which is identical in form and function to a total metal jacket, or TMJ). Now, the standard FMJ bullet's jacket leaves its lead core exposed at the base, and thus permits hot propellant gasses to aerosolize toxic heavy metal during ignition. The TMJ, on the other hand, features a jacket which fully encapsulates the bullet's core. As the result this ammo will not only prevent lead residue from accumulating on your pistol's bore, but also keep the air around you cleaner – a huge health benefit, if you spend a lot of time shooting targets indoors.

This cartridge also features Ammo Inc.'s own Hyperclean Technology, which further reduces the accumulation of residues which could affect both functionality and accuracy. This round's new production brass case, non-corrosive Boxer primer and propellant were all created and put together in the USA!
9mm - 115 Grain TMJ - Ammo Inc. - 1000 Rounds Comparisons
9mm - 115 Grain TMJ - Ammo Inc. - 1000 Rounds Variations
9mm - 115 Grain TMJ - Ammo Inc. - 1000 Rounds Questions and Answers
9mm - 115 Grain TMJ - Ammo Inc. - 1000 Rounds Price History