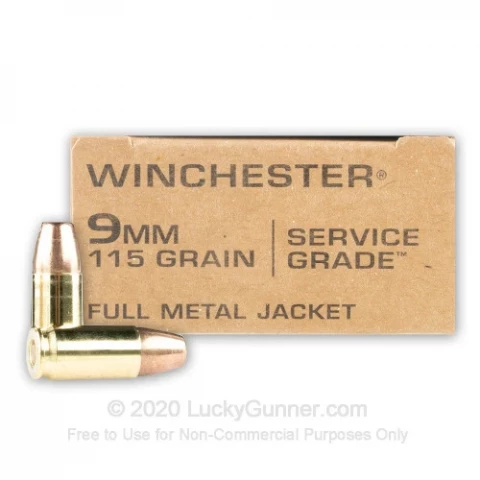 9mm - 115 Grain FMJ - Winchester Service Grade - 50 Rounds for Sale
Product Description
This service grade 9mm ammo is an affordable range training option for the high-volume shooter. Winchester produced this 9mm ammo for the US Army MHS program after landing a significant contract; the purpose of this is to move the armed forces into … read more a new era of arms and ammunition. Topped with a 115 grain full metal jacket (FMJ) projectile, these 9mm rounds exit the muzzle at approximately 1190 fps and leave minimal lead fouling in the chamber. Winchester loads this ammo into new-production brass casings that are Boxer-primed and reloadable. This is a handgun load with a moderate recoil and is a great training round for any novice shooter. The 9mm Luger caliber is popular among law enforcement around the country, so you get the added plus of training with ammunition favored by our boys and girls in blue. For over 150 years, shooters have trusted the quality of Winchester ammunition for training, competition, hunting, and casual shooting. Order your 20-round box of this reliable 9mm Luger ammo today and get to the range!
9mm - 115 Grain FMJ - Winchester Service Grade - 50 Rounds Comparisons
9mm - 115 Grain FMJ - Winchester Service Grade - 50 Rounds Reviews Timothyleenygmail.com
December 2, 2020
New to shooting
I really can't say whether these are better then the other as I just shoot to be proficient in the use of my firearm. I know I have never had any issues with them. I have a Sig Legion P229 and it functions just fine. Good price and good ammo! What more do you need? Great ammo for the price
Never had an issue with this ammo, great performance and accuracy in my CZ P-10C. Prob gonna snag more when I can. Happy with my purchase
Happy with my purchase Decent ammo
Decent ammo at a good price, I have purchased 1000rds of this stuff and it runs great in my XD9 and EC9s withoit any issue. However, it's a different story in my Glock 19, I get 1 FTE per box of ammo. This is the only ammo that does that in my G19 so I know it's not the gun. Works well
Ran about 200 rounds through my Sig P226 in a competition without any issues. Would definitely purchase again. Great for range time
Been using this ammo to practice with my S&W Shield and P80 G19 build. Very happy with the quality and consistency, especially for the price. Good range ammo
I put 250 rounds through my G19 and had good results. Fairly clean ammo overall with not much cleaning required. I had 1 dead round in 250. Good stuff
Awesome stuff for indoor and outdoor practice. Runs great in my Beretta M9 and Salient Glock 34 Great inexpensive ammo.
Really good, clean ammo at a great price. I'm buying more!! Quality ammo
Great ammo, no failure to feed or failure to eject. Clean ammo has a little punch but not bad yes I would definitely buy again Accuracy
More accurate than my standard grade of 115grain ammo. Maybe a little more punch behind it. Definitely consider buying another case. Correllus Hall
March 5, 2018
Great Ammo
This is a good ammo for training and everyday duty carry in security field. The low cost accuracy and performance of ammo is compared to no other.
9mm - 115 Grain FMJ - Winchester Service Grade - 50 Rounds Variations
9mm - 115 Grain FMJ - Winchester Service Grade - 50 Rounds Questions and Answers
Asked by
Unknown
1 year ago
Would this be okay for a 9mm Smith & Wesson m&p sheild 2.0 indoor range training?
Hi Kenzie. That Winchester is perfect training ammo! Your Shield will do very well with this round. It is also very easy on the wallet which makes it an easy choice! Give me a shout if I can help you pick a good defense/carry round! 800-720-6035
Asked by
Unknown
1 year ago
What kind of 9 mm ammo can I use in a Ruger security 9
Hi Michael. Congrats on the Ruger! They are great pistols. Yours will use any 9mm round including the 9mm NATO and +P rounds. The only restriction is that you cannot use +P+ rounds. Check out all the 9mm ammo here. https://www.luckygunner.com/handgun
Asked by
Unknown
1 year ago
is this ammo in the +P range?
This round's chamber pressure is typical of a standard 9mm load and produces a 1,190 fps muzzle velocity. It's not an overpressure (+P) cartridge and should work well in all conventional firearms chambered for 9mm.
9mm - 115 Grain FMJ - Winchester Service Grade - 50 Rounds Price History