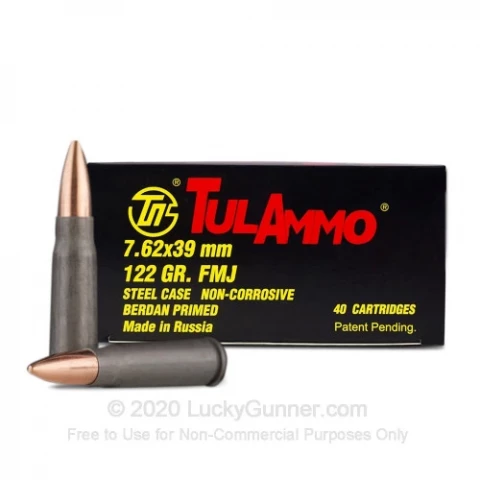 7.62x39mm - 122 Grain FMJ - Tula - 1000 Rounds for Sale
Product Description
If you need to stock up on some affordable plinking ammo, then this is exactly what you need.

This ammunition, made by Tula, is perfect for range training or plinking with your SKS or AK variant rifle. FMJ ammunition is not ideal for … read more self-defense or hunting, due to the high amount of penetration that they have, but it is perfect for the range. The Berdan primer and steel case on this ammunition offers a considerable savings for you, without sacrificing quality, reliability, or accuracy. This ammo comes in 40 round boxes with 25 boxes per case, it's newly produced, non-corrosive, and non-reloadable.

Tula Cartridge Works was founded in 1880, in Russia. Throughout their history, they have produced billions of rounds of small arms ammunition, for civilian and government use. Don't hesitate! Order some of this great ammunition today, before it's all gone.
7.62x39mm - 122 Grain FMJ - Tula - 1000 Rounds Comparisons
7.62x39mm - 122 Grain FMJ - Tula - 1000 Rounds Reviews Best prices on ammo I've seen! And have not had a dud round yet!
Super fast shipping! Got my ammo in 3 days! Carefully packed and had ZERO damage to any of my 1,000 rounds! Looking forward to my next purchase! Awesome deal!
I'm about 200 rounds in and so far so good. Shipping was fast, price was good.. will definitely buy from luckygunner again!! Dean Christopher
May 2, 2020
100 percent will not use
I fired the last round of my 40 round box of Tula 7 62 x39 in my russian sks. The primer pushed the bullet into rifling. And the case still had powder in it. Complete junk ammo. Will never buy again. All went as expected
Bought it to shoot with my sks. The bullets shot fairly well, no duds or ejection issues. Ammo is kinda dirty but that's to be expected. Overall very happy with my purchase. Excellent
Easy ordering, fast service, good product Hectorpr27
March 20, 2020
Highly recommend
Overall good performing ammo. I was happy with how quick it shipped and will defiantly buy from luckygunner again. Great ammo at great price
I've run around 300 rounds of Tula 122g 7.62 x 39 through my WASR-10. Not a single hiccup. Every round has fed, gone bang. Fine plinking accuracy as various tin cans, plastic liter bottles, and one very surprised golf ball can attest. 70 yards and iron sights; you could hear my shout of glee from across the range. Tula 123 Gr. FMJ
Ammunition is as I expected-functions, is reasonably accurate from my rifle. Good price, delivery pretty quick. Will buy again from Lucky Gunner. Scott Lucky
October 13, 2019
Good Price
Fairly consistent rounds. Ran about 300 so far. Only had maybe 5 misfires. Decent value Duds
Too many duds. Don't wast your money Bang for the buck
A little overpriced but worth it. No failures at all but a little dirty. Shooting out of a ruger ranch rifle and saiga AK they are surprisingly accurate. Bad ammo
Fired about 30 rounds before getting angry and leaving the range. Had about 6 to 7 misfired about of a 30 round mag. An issue I've never had with wolf ammo.
7.62x39mm - 122 Grain FMJ - Tula - 1000 Rounds Variations
7.62x39mm - 122 Grain FMJ - Tula - 1000 Rounds Questions and Answers
7.62x39mm - 122 Grain FMJ - Tula - 1000 Rounds Price History