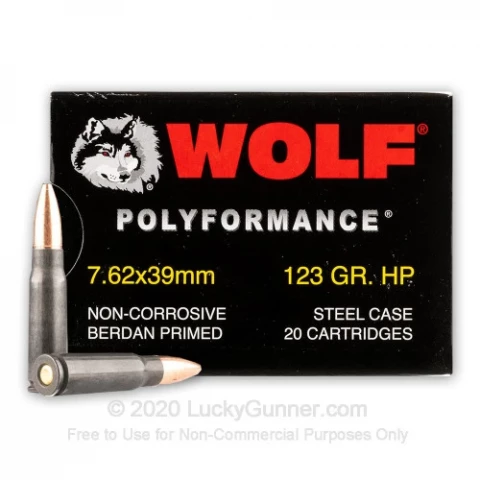 7.62x39 - 123 Grain HP - WOLF WPA Polyformance - 1000 Rounds
Rifle Ammo
|
7.62X39
7.62x39 - 123 Grain HP - WOLF WPA Polyformance - 1000 Rounds for Sale
Product Description
Newly manufactured Wolf WPA Polyformance, this steel cased ammo is excellent for training with your AK-47.

Manufactured in one of Wolf's legendary production facilities in Russia. This product is steel-cased and Berdan-primed. It's non-corrosive and non-reloadable.
7.62x39 - 123 Grain HP - WOLF WPA Polyformance - 1000 Rounds Comparisons
7.62x39 - 123 Grain HP - WOLF WPA Polyformance - 1000 Rounds Reviews Never had any problems in years of using this ammo.
Stock up! Best steel case ammo
best steel case ammo not one failure to eject, works good in my AR Raymond
November 22, 2019
Good stuff
Everything was as stated,the price was the best I have found the ammo was perfect to shoot I'll be back Lucky Gunnery let's work on the shipping, it needs some work on bulk buyers. Very clean shooting ammo.
I was frankly surprised to see almost no residue in the rifle after 80 rounds. Hungry? Like the Wolf.
My AKs devoured these steel rounds. Clean, accurate and solid. No misfeeds, no misfires, and no fouling. Great shooting at a great price. Gritty going in, but lands nice on paper.
While these coated steel cases are rust free and smooth to the touch they loaded harshly into my Ruger American Ranch, nowhere near as smoothly as brass cased stuff. But 100 yards away they performed admirably, especially considering the price. Great budget ammo that I was able to hold an easy 1-2 MOA with and I am no professional shooter - but at this price you could train to… read more be! Fire fine as wine! No hiccups at all
They work great. I thought they would last me a lifetime.....till I go out and shoot and I find myself burning off a lot more rounds. great product quick and easy ordering. AR-15 use not quite perfect...
I see the AK people here find no feeding problems. My AR-15 handles the brass cases and Tulammo steel well but these have a sharp machined edge on the recessed rim that is just enough to catch and hang. A little chamfering on these edges makes feeding just fine though. If they just tumbled the cases at the factory I bet they would be better. Best Buy Around!
Superior service, quality ammunition, lightning -fast delivery, extremely good price! My AKs and SKSs eat this ammo--hundreds of rounds--without issue! You can never go wrong buying ammo--any ammo--from Lucky Gunner. Many thanks to All Y'all. 7.62x39 - 123hp
Great ammo, no problems, love it when its on my porch 2 days after order!!! thanks guys Jester hunt
November 6, 2015
7.62x39 - 123 gr HP - WOLF WPA Polyformance - 1000 Rounds
Great price. Super fast shipping and packing. A++++++ I will buy again for sure. Thanks so much for the great Service. Good Ammo
I use this ammo in my AK-47 and 3 different SKS's. Never had a miss fire or jam. I buy most all of my ammo through LuckyGunner. Good prices and good service.
7.62x39 - 123 Grain HP - WOLF WPA Polyformance - 1000 Rounds Variations
7.62x39 - 123 Grain HP - WOLF WPA Polyformance - 1000 Rounds Questions and Answers
7.62x39 - 123 Grain HP - WOLF WPA Polyformance - 1000 Rounds Price History