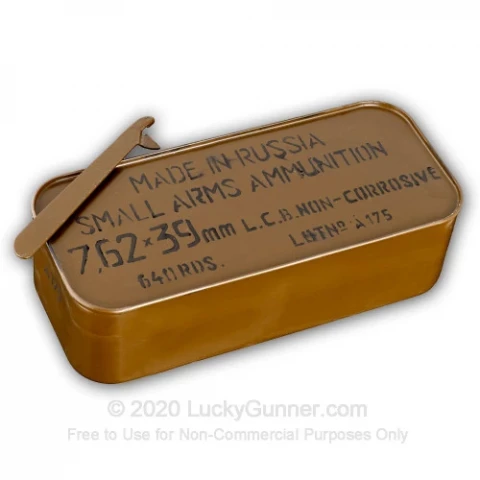 7.62x39 - 122 Grain FMJ - Tula - 640 Round Spam Can for Sale
Product Description
This newly manufactured 7.62x39 full metal jacket ammunition is ideal for hunting, target practice, range training, or plinking. It is both economical and reliable and is produced by one of the most established ammunition plants in the world.

Tula ammunition derives its … read more name from its birthplace, the Tula Cartridge Works in Tula, Russia.

The Tula Cartridge Works plant was founded in 1880 and is currently one of the largest ammunition manufacturing plants in the world. The Tula name has gained a following worldwide for its rugged, reliable, and economical product. This cartridge complies with CIP requirements and the casing features a polymer-coated steel casing with a non-corrosive Berdan Primer. The projectile features a bimetal jacket (contains steel and copper) and a lead core resulting in excellent ballistics characteristics.

This ammunition is rugged like the country where it was manufactured and keeps its qualities under temperatures ranging from -58 degrees Fahrenheit to 122 degrees Fahrenheit ensuring that it will perform when needed most.
7.62x39 - 122 Grain FMJ - Tula - 640 Round Spam Can Comparisons
7.62x39 - 122 Grain FMJ - Tula - 640 Round Spam Can Reviews awsome
price is a little high but good quality Spray and Pray
April 20, 2020
You can't go wrong
I've never had a problem with Tula ammo, my preferred choice. First time ordering with this supplier and no problems at all. They'll get more business from me in the future. Nickname
October 14, 2018 Great ammo, excellent price.
Have used thousands of rounds over the years, always satisfied. FloridaShooter
December 9, 2015
Good!
I have used plenty of Tula ammo in the past, but never bought one packaged like this. Arrived promptly, and appears very durable. I did not open this and hope I never have to. Cheeper and better option then buying ammo in 20rounds boxes and transferring into a ammo can. Fishing416
August 21, 2015
Lucky gunner are my new ammo supplier.
Shot 500 of 640 without any problems and the customer service was great. Shipping was fast and price was good. I will be calling them again very so. 50-75% Fire Rate
Not sure what makes my purchase such an anomaly, but I 25-50% of the ammo that went through my Ruger Mini 30 did not fire. It struck them hard, and should have fired. The fired casings and the duds were identical on the back. 100616532 is my order number. Purchased 7/10, fired yesterday. Am an avid shooting, but thoroughly disappointed with this purchase. Maybe it's a bad… read more lot. Will be contacting customer service asap. Jonnylaw
November 20, 2013
Great ammo
Burned through over 300 rounds in my Chinese AK. Not one problem. Price was the best and shipping was super fast. Appears to be a solid buy.
Good price, fast shipping. solid packaging. I haven't shot any of it yet, but I will let you know how things work out when the zombie apocalypse commences! Good, reliable ammo.
The Russians know what they're doing. Mission Rancher
May 29, 2013
7.62x39 - 122 Grain FMJ - Tula - 640 Round Spam Can Variations
7.62x39 - 122 Grain FMJ - Tula - 640 Round Spam Can Questions and Answers
7.62x39 - 122 Grain FMJ - Tula - 640 Round Spam Can Price History