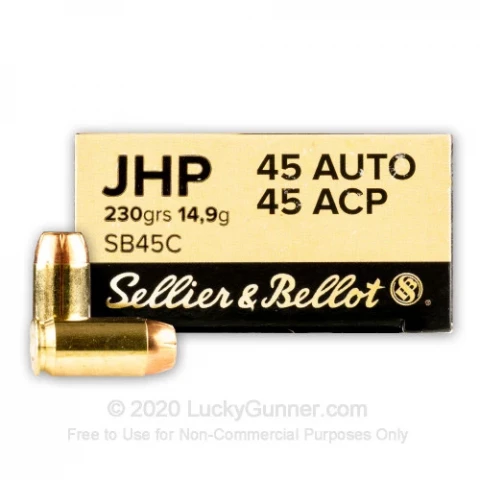 45 ACP - 230 Grain JHP - Sellier & Bellot - 50 Rounds for Sale
Product Description
This 45 ACP cartridge by Sellier & Bellot sports a 230 grain jacketed hollow point projectile, the same bullet weight offered by the caliber when it was first introduced. The bullet's jacket, which is 90 percent copper and 10 percent zinc, not … read more only protects a pistol's bore against rapid lead fouling, but also facilitates in penetration and has indentations along its nose which control the planes along which expansion occurs. The round's 889 fps muzzle velocity is just a shade faster than what is typical for a government issue M1911A1, and certainly complements the round's great stopping power.

This cartridge also features a responsive and non-corrosive Boxer primer, as well as a precisely formed factory fresh brass casing, the perfect combination for handloading. These cartridges are designed to feed and function in any number of firearms, making them a versatile choice whether you would load them in a bread and butter 1911 or an uncommon Luger carbine.
45 ACP - 230 Grain JHP - Sellier & Bellot - 50 Rounds Comparisons
45 ACP - 230 Grain JHP - Sellier & Bellot - 50 Rounds Reviews Need more Ammo.
No additional comments Fired at the range to compare to fmj
First time firing my Glock 30 gen 4, ran 50 rounds of fmj, then 10 of jhp. Shot placement very similar, happy with the ammo.
45 ACP - 230 Grain JHP - Sellier & Bellot - 50 Rounds Variations
45 ACP - 230 Grain JHP - Sellier & Bellot - 50 Rounds Questions and Answers
45 ACP - 230 Grain JHP - Sellier & Bellot - 50 Rounds Price History