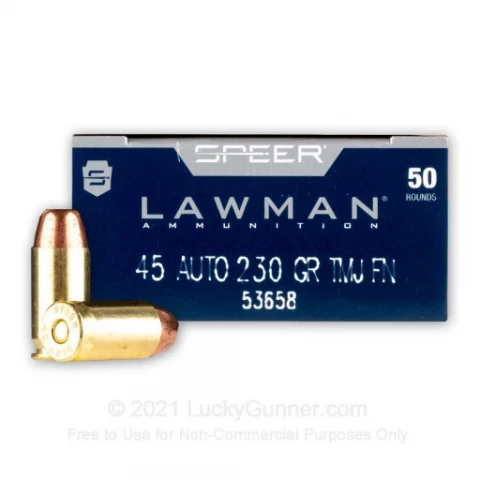 45 ACP - 230 gr TMJ - Speer LAWMAN - 1000 Rounds for Sale
Product Description
Speer® brought sport shooters and law enforcement the excellence of Lawman over 35 years ago. Back in 1968, the line included various calibers of centerfire handgun ammunition, and quickly earned a reputation as a high-performance and reliable product.

Lawman is attractively priced, and … read more the cases are reloadable with clean-burning propellants and reliable CCI primers to complete the package.

Total metal jacket (TMJ) is different from full metal jacket (FMJ) due to TMJ bullets having no exposed lead bases, this makes TMJ bullets better suited for firing in indoor ranges since there will be fewer lead particulates floating in the air after firing .
45 ACP - 230 gr TMJ - Speer LAWMAN - 1000 Rounds Comparisons
45 ACP - 230 gr TMJ - Speer LAWMAN - 1000 Rounds Reviews Reliable but....
Shot this next to some S and B today at the range from a p227. Fired every time however muzzle flash was quite increased in the lawman vs the S and B, as well as increase in unburned powder....Overall I am glad I purchased the product however I think I will stick with S and B. MYFORTYACRES
June 8, 2014
Great price
Speer ammo is the best practice ammo out there. Clean and never a hang up in my XDM. Also use .40 in my other XDM. And 9mm in my 92f Beretta. Speer is the best. Thanks again Lucky Gunner for keeping your price low with reasonalbe shipping.
45 ACP - 230 gr TMJ - Speer LAWMAN - 1000 Rounds Variations
45 ACP - 230 gr TMJ - Speer LAWMAN - 1000 Rounds Questions and Answers
Asked by
Unknown
1 year ago
What size primers do these have?
Thanks for reaching out Ed! This has a Small Pistol primer pocket. My guy at Speer told me you can use standard Small Pistol or Small Pistol Magnum primers in this case – just follow load data as normal.
45 ACP - 230 gr TMJ - Speer LAWMAN - 1000 Rounds Price History