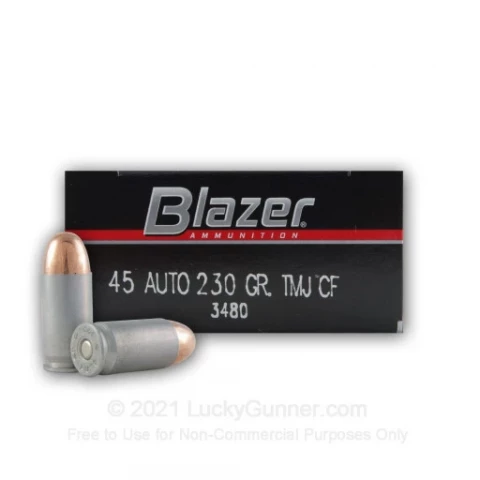 45 ACP - 230 gr TMJ Cleanfire - Blazer - 1000 Rounds for Sale
Product Description
If you're looking for lead-free American made 45 Auto range ammo, then this is an excellent choice. This cartridge utilizes CCI's state of the art Clean-Fire primers and Speer TMJ bullets. This ammo is specifically tailored for indoor range ammo … read more virtually eliminating airborne lead, barium, and antimony. By removing the heavy metals, CCI has enabled this round to have a much cleaner burn.

Newly manufactured in the United States by CCI, this ammunition is great for target shooting, plinking, or range training. Each round sports a total metal jacket bullet atop a berdan-primed aluminum casing.

This product is non-corrosive and non-reloadable.
45 ACP - 230 gr TMJ Cleanfire - Blazer - 1000 Rounds Comparisons
45 ACP - 230 gr TMJ Cleanfire - Blazer - 1000 Rounds Reviews fmsmaine
November 28, 2013
Eh
1000 rounds through a G30sf. Ftf every third or fourth magazine. It's given me great practice on clearing jambs. I've never had a problem with the G30sf before. Used the same ammo in my G19 and don't recall an issue. May just be this batch. I'll update and edit the review if I run into a similar situation with different ammo. 5 stars for Lucky Gunner. buttewillard
February 22, 2013
Great range ammo
This is good ammo. It fires clean. I use it in my Sig 1911 C3. Good ammo for the price
Had very little problems with this ammo. A few ftfs, but I think that was the clip. No good if you're into reloading because of casing and primer type. Good ammo
Good ammo at a good price. No issues so far. Recommended. You have to try these
I was a little skeptical of their performance and "clean firing" but once I got on the range all doubt was erased. I've put 500 rounds, through my Springfield XD over two sessions with no problems firing at all. Additionally, my handgun took much less cleaning on each occasion than any time I've fired other types of target ammo. Blazer always high quality
I have never had a problem putting Blazer ammo down range with my Colt 1911s. Good price, high quality. and excellent service from LG. Will by this ammo again. dawgface34
August 9, 2012
Great range ammo!!
Fired over 2000rds through my Kimber 45 and Glock 21 no problems at all. Range ammo at its best! Best Ammo Dealer Bar None!
Great ammo that shoots everytime from a top notch seller with the fastest delvery time than anyone out there. Keep up the great work guys!! Great practice ammo for the price
I purchased this 1,000 rd lot from Lucky Gunner. Delivery was very fast. I rate Lucky Gunner the highest marks and the best seller of ammunition. I've fired 250 rounds of this ammunition through my series 70 Colt Combat Commander, Baby Eagle and SIG-Sauer P220. The ammunition performed very well. No feed or ejection problems. This ammunition does not foul the barrels like Fiocchi,… read more Wolf & Sellier-Bellot ammo does. This is the best practice ammunition I've purchased to date.
45 ACP - 230 gr TMJ Cleanfire - Blazer - 1000 Rounds Variations
45 ACP - 230 gr TMJ Cleanfire - Blazer - 1000 Rounds Questions and Answers
45 ACP - 230 gr TMJ Cleanfire - Blazer - 1000 Rounds Price History