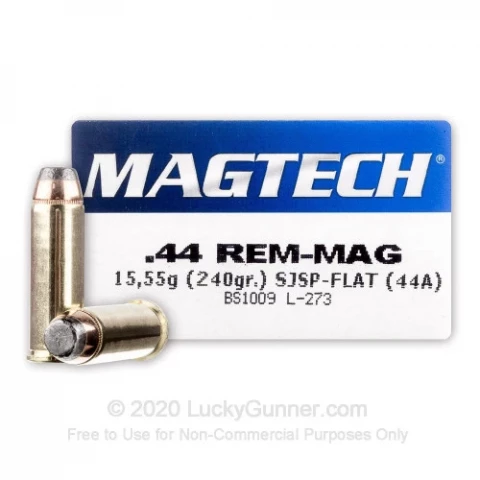 44 Mag - 240 Grain SJSP - Magtech - 50 Rounds for Sale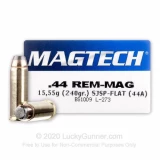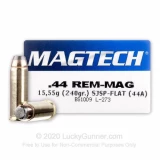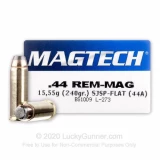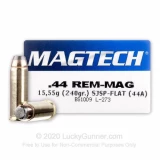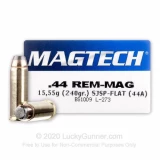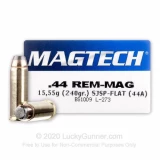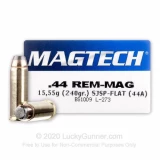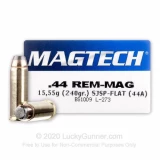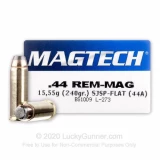 Product Description
Newly manufactured by Magtech Ammunition, this product is excellent for self-defense, target practice, and range training.

Each reloadable round boasts a reloadable brass casing, semi-jacketed soft-point bullet, a boxer primer, and non-corrosive propellant. The bullets are designed for maximum energy transfer … read more upon impact while at the same time ensuring controlled expansion.

Since 1926 Magtech ammunition has been producing reliable cartridges for shooting enthusiasts worldwide. Magtech ammunition is manufactured using state-of-the-art equipment in Sao Paulo, Brazil. Their manufacturing plant is vertically integrated producing their own powder, primers, brass, and projectiles which allows for tight oversight of quality at every step of the process. Due to their reputation for quality, Magtech Ammunition is now being exported to 50 countries around the world.
Specifications
| | |
| --- | --- |
| Brand | Magtech |
| Category | Rifle Ammo |
| Manufacturer | Magtech |
| Condition | New |
| Caliber | 44 Magnum |
| Manufacturer SKU | 44A |
| UPC Barcode | 754908164318 |
44 Mag - 240 Grain SJSP - Magtech - 50 Rounds Comparisons
44 Mag - 240 Grain SJSP - Magtech - 50 Rounds Reviews dEeRs down
October 31, 2019
Very high penetration,a little expansion.
Shot from an 18in Marlin rifle, sighted 2 inch high at 75 is still on a deers vitals at 120. It is at least as accurate as me and the gun can be, and no Hang-Ups in cycling. I suspect between 1500-1700fps but have not got it on a chronograph................ Great for practice
1st time running magnum loads through my 629, this ammo is a bit tamer than others with a energy of @741 as opposed to others with over 1000....so my hand was very thankful as it felt very little sting Good, accurate, safe on steel at 15 yards
Very quickly become a Magtech devotee with this and other calibers. Pushed a box through my Ruger Super Redhawk with no issues, save for the casings getting a bit sticky in their chambers at the end. Great ammo
I've shot alot of this and have enjoyed every round. Great stuff. Shipped quick. Too bad it's not US made. Ruger Redhawk 7 1/2" barrel. 44mag
Sorry, out of a Winchester at 50 a big no show noticed that the seating is inconsistent with the copper made in Brazil last entry over two years ago, might work well with hand guns but rifle a huge disappointment, love lucky gunner but not a good fit for my rifle Ammo performance
Have always had good performance w/magtech. Would recommend magtech ammo to anyone. Will continue buying my ammo needs from Lucky Gunner. Two thumbs up
I'm very happy with my order and the service I got!! I will be calling again very soon. I have recommended yall to all my friends and family... Great buy
The quality of the ammunition that I purchased was excellent. I had a great time shooting with it. I plan on ordering some more in the near future. freethinker
November 10, 2013
Lucky Gunner the Best
Great product Fast Shipping!!!! hog slayer
November 4, 2013
hogs do not stand a chance with this round
one night of hunting i took 2 boars and a sow. all were around the 200 lb range. they dropped like a sack of potatoes Desert eagle
October 24, 2013
Good deal a bit dirty and ability slow
Cycle 100 round tru my desert eagle no problems. It was a bit dirty not horrible but a bit. Also fps is a bit slower than some ammo. Best price around how ever . Greta for target practice. Also good reloading brass. deer slaver
October 3, 2013
best deer ammo i ever used
the most versital ammo i ever used. use it for targets one day then hunt deer with it the next.i shot a deer at 135 yards and it only ran 50 yards.its a good price too.
44 Mag - 240 Grain SJSP - Magtech - 50 Rounds Variations
44 Mag - 240 Grain SJSP - Magtech - 50 Rounds Questions and Answers
Asked by
Unknown
1 year ago
will these rounds work for rifles
Hello Teeter, Yes these rounds will work well in your lever action rifle chambered in the .44 Mag.
44 Mag - 240 Grain SJSP - Magtech - 50 Rounds Price History