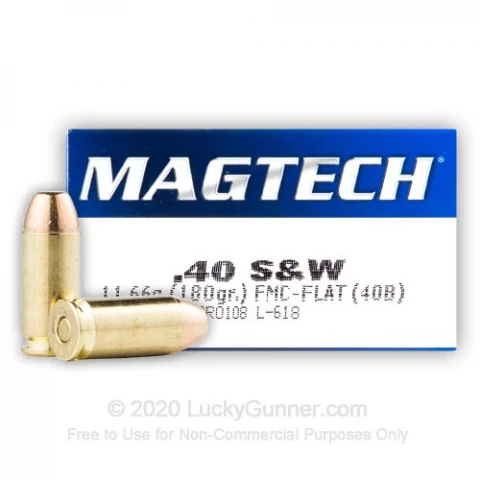 40 S&W - 180 Grain FMJ Flat - Magtech - 50 Rounds for Sale
Product Description
Newly manufactured by Magtech Ammunition, this product is excellent for target practice and range training.

Each reloadable round boasts a brass casing, full metal jacket bullet, a boxer primer, and non-corrosive propellant.

Since 1926 Magtech ammunition has been producing reliable … read more cartridges for shooting enthusiasts worldwide. Magtech ammunition is manufactured using state-of-the-art equipment in Sao Paulo, Brazil. Their manufacturing plant is vertically integrated producing their own powder, primers, brass, and projectiles which allows for tight oversight of quality at every step of the process. Due to their reputation for quality, Magtech Ammunition is now being exported to 50 countries around the world.
40 S&W - 180 Grain FMJ Flat - Magtech - 50 Rounds Comparisons
40 S&W - 180 Grain FMJ Flat - Magtech - 50 Rounds Reviews Great ammo, great LuckyGunner service
Bought 500 rounds of this ammo. Amazed to receive the ammo on second day from purchase. Lucky Gunner is tops! Teufulhundn 25
December 15, 2013
Very Pleased
Quick delivery, ammo performed very well, no issue whatsoever Great experience
Quality ammo. Service was A+ Good product; excellent service
Shot a little dirtier and with more smoke than other brands in my Walther P99. However no FTF/FTE so my complaints are minimal. Service, shipping from LG was top notch for this first time online buyer and will be buying again. Great Ammo for the money.
Have shot several hundred rounds through my Sig .40 with no issues whatsoever. And, as always, Lucky Gunner is a pleasure to deal with! Linwood
September 10, 2012
Excellent Value
Absolutely zero issues with this ammo. This is my 2nd ammo purchase from LG and I couldn't be any happier. My local range has officially lost my ammo sales. They know me pretty well, I just hope they don't read this. LOL Linwood, Virginia Beach, VA VERY GOOD SERVICE
PURCHASED 500 RDS. FOR MY GLOCK 22,SHOT 6 BOXES WITHOUT ANY MISFIRES,GREAT TO DO BUSINESS WITH. good product - quick service
good product - quick service Very Pleased!
Ammo shot well with NO issues thru my Glock 22 G4. Alot cleaner than some other brands. Shipping was very FAST; I received my order the next day! Will definately buy from Lucky Gunner again!! Thanks. very pleased
Buy from you online rather local for availability for some calibers and better prices and speedier delivery than catalogues and no out of stock notices after order.
40 S&W - 180 Grain FMJ Flat - Magtech - 50 Rounds Variations
40 S&W - 180 Grain FMJ Flat - Magtech - 50 Rounds Questions and Answers
40 S&W - 180 Grain FMJ Flat - Magtech - 50 Rounds Price History