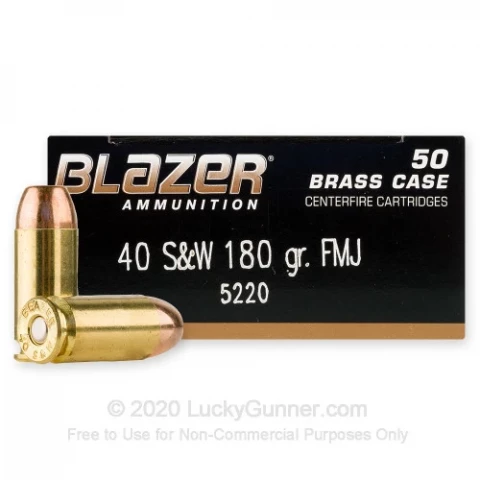 40 S&W - 180 Grain FMJ - Blazer Brass - 50 Rounds for Sale
Product Description
Newly manufactured in the United States, this product is brass-cased, boxer-primed, non-corrosive, and reloadable. It is a great ammunition for target practice, range shooting, and tactical training. It is economical, reliable, and brass-cased.

The Blazer Brass line of product is … read more manufactured by CCI, an established American manufacturer owned by ATK.
40 S&W - 180 Grain FMJ - Blazer Brass - 50 Rounds Comparisons
40 S&W - 180 Grain FMJ - Blazer Brass - 50 Rounds Reviews what ever
December 1, 2021
jammed
mine jammed 4 times Notorious P.I.G.
June 29, 2020
Great product, even better customer service
Product is an awesome value and great for the range. Customer service was top notch. Product was shipped fast and arrived fast. Excellent for range
Fired over 500 rounds through my SR40 and wife's Glock. Excellent anmo Moecity 44
January 11, 2019
Smooth as butter coming out the chamber with no jam love the sound of the the way they come out
Perfect No worries here for training
Solid, no jams and priced right. Great for fun, training, and tactical training for law enforcement. I've tried others, but my S&W M&P 40 Shield loves this ammo for practice. Excellent
My first order from LuckyGunner, and won't be the last. Good prices, fast shipping. Great ammo, great service from LG
This ammo was flawless, clean, and no FTF or FTE's at all. My Glock would eat these rounds all day long. I've shopped at several ammo supply websites and I seldom find better ammo at better prices than LG. I have purchased other ammo/calibers from LG too. The shipping is fast and very reasonable. I am now a faithful LG customer! great ammo
I purchased a box of 40 s&w and a box of 357 sig ammo for my sig p229 shot both boxes without a problem ammo was great I will be getting more soon. absolutdobe
March 7, 2014
Good round
Brass case rounds worked without a hitch. Had no problems with this round. In fact I never had a problem with the aluminum case round. The only problems I ever had were .40 caliber reloads. Through the Wolf barrel no problems. Through the Glock barrel had quite a few feeding problems due to case bulge on the bottom of the round. 25th round of the box
25th round of the box seemed to have blown up or something or I had a squib load because my target was peppered with pieces of copper and lead (~3 yards distance). Gave me a big scare since I was concerned my pistol (S&W Pro Series C.O.R.E.) had some damage to it, turned out it was ok, but from now on I will use other brands to practice with. bad000chevy
December 17, 2012
Awesome ammo
Very happy with my buy from LG no problems very accurate for the price will order more soon Great Price and quality
I have put over 800 rounds through my xdm 40. This ammo cant be beat for the price. As always lucky gunner is the best place to purchase ammo. Fast shipping, great prices and reliable service. Thanks.
40 S&W - 180 Grain FMJ - Blazer Brass - 50 Rounds Variations
40 S&W - 180 Grain FMJ - Blazer Brass - 50 Rounds Questions and Answers
Asked by
Unknown
1 year ago
Is there an ETA to be back in stock?
My apologies, but I can't promise you when we'll get this ammo back in stock. We are getting in new ammo daily and updating our site just as often, so I hope you'll check back in soon to see how we can be of better service to you!
40 S&W - 180 Grain FMJ - Blazer Brass - 50 Rounds Price History