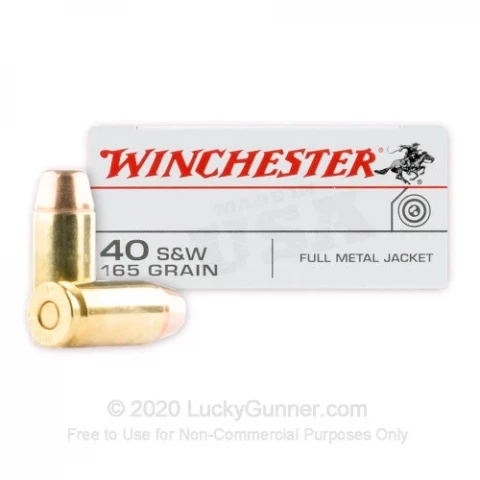 40 S&W - 165 Grain FMJ - Winchester USA - 50 Rounds for Sale
Product Description
Manufactured by the legendary Winchester Ammunition Company, this product is brand new, brass-cased, boxer-primed, non-corrosive, and reloadable. It is a staple target practice and training ammunition.

This line of Winchester ammunition is one of the most common in use today, prized for its … read more affordability, performance, and history in the hands of the American sports-shooting enthusiast.

Winchester began offering its quality product in 1873 and has been providing the citizens and military of the United States with the same standard of quality ever since.
40 S&W - 165 Grain FMJ - Winchester USA - 50 Rounds Comparisons
40 S&W - 165 Grain FMJ - Winchester USA - 50 Rounds Reviews Okay for the range
This ammo performs okay for range training. Plenty of practice clearing FTE's. I experienced an average of 1 failure to eject per 15rd magazine. 300 rounds total. Otherwise, this is good practice ammo. Every round fired, even if I had to remove the spent shell manually on some. They weren't stuck in the pipe. They just didn't engage the ejector. Huskyprepper1
April 28, 2016
Quality
I used this ammunition for a training class at my local range. No failures of any kind out of about 150 rounds fired, and the pistol was pretty clean considering. I would absolutely buy this ammunition again. Shipping is lucky gunner standard... Fast. Excellent
I use these for my duty weapon and standby them 100%. Only wish is there was a way to be able to get cheaper ammo for LEO. Especially when required to qualify at lest 2 times a year and it is my responsibility to provide my own ammo. Buy It
Ammo functioned perfectly in a full size S&W MP 40.
40 S&W - 165 Grain FMJ - Winchester USA - 50 Rounds Variations
40 S&W - 165 Grain FMJ - Winchester USA - 50 Rounds Questions and Answers
40 S&W - 165 Grain FMJ - Winchester USA - 50 Rounds Price History