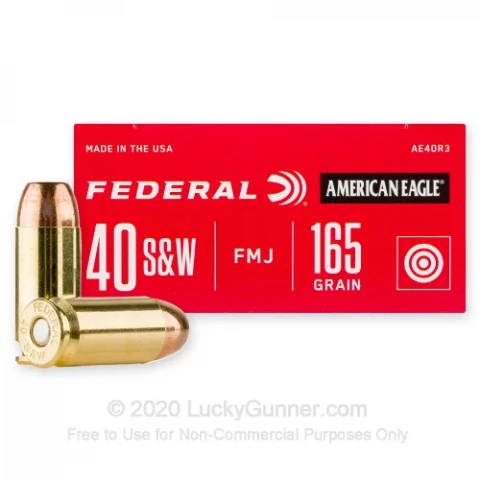 40 S&W - 165 Grain FMJ - Federal American Eagle - 50 Rounds for Sale
Product Description
Manufactured under Federal's American Eagle brand, this product is brand new, brass-cased, boxer-primed, non-corrosive, and reloadable. It is a staple range and target practice ammunition.

This is top of the line, American-made range ammo - it doesn't get any better.
40 S&W - 165 Grain FMJ - Federal American Eagle - 50 Rounds Comparisons
40 S&W - 165 Grain FMJ - Federal American Eagle - 50 Rounds Reviews Great ammunition
I purchased a 1000 round for my Glock 27 no problems at all shoots great and accurate Ammo arrived quickly. would not buy again
Upon un boxing, I noticed the ammunition was spotted and had some kind of residue on about half of the cartridges. Was told by lucky gunner that this was due to the drying process, and that they air dried instead of whatever method Federal uses to dry them. Had a few failure to feed so I disposed of the rest of the unused box. Would not recommend. As I told Lucky Gunner, they looked… read more like a sloppy job of reloading. I have been shooting for over fifty years. BOSSMAN
September 28, 2016
PRETTY GOOD HI-SPEED 40 S&W AMMO
GOOD---FAST---FEEDS GOOD Review of Lucky Gunner
I find your inventory and prices to be the best on the Internet. I will definitely be doing business with you from now on. good quality and a fair price. Shipped rapidly to my door saving me time & money
Usually .40 is 180gr. so 165gr. is a lighter load & makes it more comfortable shoot. Good enough that I will buy some more
I used the ammo to break in a new glock barrel and it performed well BossHog
February 22, 2014
Satisfied
Ordered 300 rounds and It arrived quick I received exactly what I ordered. I will continue to support this company. FAST SERVICE @ Lucky Gunner
I am COMPLETLY amazed by the quality, speed of the order process, and friendly staff at Lucky Gunner!!! Thanks for your rapid service!! 40 S&W
Great ammo. I purchased a few boxes because it was in stock. A bit pricey, but at least I received the ammo within 3 days instead of waiting a month like other websites. Ideal Stuff
Everything about this ammo is top-notch. Great target ammo. No jams in my G23. Getting it at my front door just days later ordering is icing on the cake. I just recently started buying ammo here and will continue to do so. This is BY FAR the best service I've ever had. Can't say enough great things about LuckyGunner. Great Value
I purchased 500 rounds with plans on purchasing more if they held up and they did. Great round for the price plan on buying more. Happy Target Shooter
October 2, 2012
Really Nice Target rounds
I wanted to see if the 165 gr rounds were as accurate as the standard 180 gr rounds. I'm happy to say this Ammo shot 12 rounds into a 2 inch group at 15 yds. This ammo shoots great. It is very consistent, fires every time and ejects every time.
40 S&W - 165 Grain FMJ - Federal American Eagle - 50 Rounds Variations
40 S&W - 165 Grain FMJ - Federal American Eagle - 50 Rounds Questions and Answers
40 S&W - 165 Grain FMJ - Federal American Eagle - 50 Rounds Price History