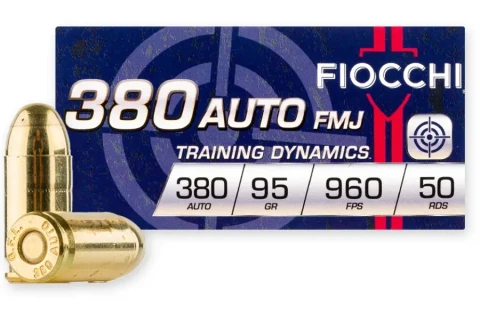 380 Auto - 95 Grain FMJ - Fiocchi - 50 Rounds for Sale
Product Description
Newly manufactured by Fiocchi, this product is excellent for target practice and shooting exercises.

This product is brass-cased, boxer-primed, non-corrosive, and reloadable. It is both economical and precision manufactured by an established European (Italian) cartridge producer.
380 Auto - 95 Grain FMJ - Fiocchi - 50 Rounds Comparisons
380 Auto - 95 Grain FMJ - Fiocchi - 50 Rounds Reviews Range ammo
I bought this ammo to use on my upcoming CCW test shooting. Great practice ammo
Works flawlessly in my LCP2. Fast shipping ! mannikomio
April 29, 2020
new kid on the block
i love and i like what i see Glock 42
Great ammo. I love Fiocchi products. My Glock 42 performed perfectly using this ammo. Great target ammo
Great stuff for target shooting. Fed flawlessly in my Glock 42 Gunner55
September 16, 2018
Goo ammo
Shot off 100 rounds not one issue all rounds hit target and no misfires. Fiocchi…best ammo since "sliced bread"….
I have numerous handguns of all calibers and Fiocchi works in all. It is most reliable and my "go-to" for ALL situations. John Browning
December 11, 2016
Does what its designed for.
It was designed for self defense. This 380 ball is full power defense ammo it surpasses the min. Penetration needed to reach vitals. Best carry ammo out there. Gunner
September 19, 2016
Great ammo, not one problem
Excellent Great stuff quick
good ammo ! No Problems
Shot 100 rounds with Glock 42 380. All fired, ejected and hit target. Purchased value was excellent
380 Auto - 95 Grain FMJ - Fiocchi - 50 Rounds Variations
380 Auto - 95 Grain FMJ - Fiocchi - 50 Rounds Questions and Answers
Asked by
Unknown
2 years ago
Is this just ammo for the range or is this both?
Thanks for reaching out Dajana! As a rule I only recommend FMJ ammo like this for shooting targets at the range. The FMJ is incapable of terminal expansion while it penetrates soft tissue, which means it doesn't create as wide a wound channel as a jackete
Asked by
Unknown
2 years ago
I have a ruger LCP 380 and am looking for ammo for target and protection. i know I cant use +P
Thanks for reaching out Roseann! I'm happy to say we have my absolute favorite 380 ACP self-defense ammo currently in stock. Hornady's Critical Defense ammo is amongthe very best on the market:<br> <br> luckygunner.com/hornady-380-acp-ammo-for-sale-380a
Asked by
Unknown
2 years ago
Any less expense if a case of 20 boxes was purchased? Also what is the cost of shipping for 10 boxes as well as a case? Thanks
Hi Marilyn! At times we are able to offer a discount for multiple products on the same order. When that is the case, you will see an "buy XX for $XX.XX" price listed just under the regular price on the product page. This particular round will give you
380 Auto - 95 Grain FMJ - Fiocchi - 50 Rounds Price History