380 Auto - 95 Grain FMJ - Blazer Brass - 50 Rounds for Sale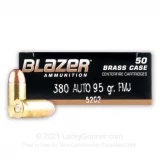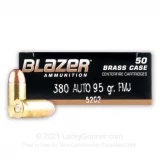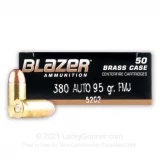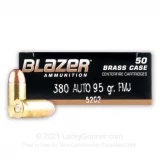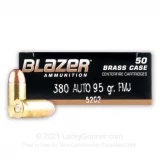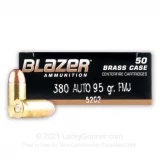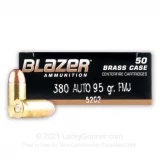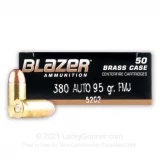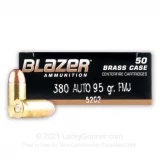 Product Description
Looking for American made Brass-cased 380 ammo?

Look no further than CCI's Blazer Brass line for reliability!

Newly manufactured in the United States, this product is brass-cased, boxer-primed, non-corrosive, and reloadable. It is a great ammunition for target practice, range shooting, and … read more tactical training. It is economical, reliable, and brass-cased.

The Blazer Brass line of product is manufactured by CCI, an established American manufacturer owned by ATK.
380 Auto - 95 Grain FMJ - Blazer Brass - 50 Rounds Comparisons
380 Auto - 95 Grain FMJ - Blazer Brass - 50 Rounds Reviews Good ammo
Frequently use blazer ammo, never had any problems with it. Lucky gunner shipped the ammo fast. Will buy more ammo from lucky gunner. Got what Iexpected
Will order again In this market, I can't award more than 3 stars for value. Not JG's fault.
Website is quick, easy and ACCURATE wrt availability. Thanks Lucky Gunner! The best
Always great ammo, best prices and quick delivery Good ammo for not a lot of money
This stuff chrono's better than most "range" fmj and is pretty clean. Best of all it will cycle in my finicky Kahr P380 and if you like penetration it is a good carry ammo. Volusia_629
December 6, 2014
Always Reliable
I've never had any issues with Blazer Brass. Works great in a S & W 380 Bodyguard. Some may be cheaper but none are more reliable box after box LUCKY GUNNER #1
My second order from you guys.Lucky Gunner is the Best.That can only happen with Good People.THANK YOU!! Good quality for price
Shot 100 rounds in my S&W bodyguard without a glitch, for not being able to find much 380 in stock any where this was a great buy and would purchase more. Lucky Gunner shipped them fast as well. excellent product and delivery
My first time purchasing here - excellent product and excellent delivery --- will be back Lucky Gunner is the BEST
Bought these with confidence. I have purchased from Lucky Gunner before, so I knew what to expect. QUALITY. Ran these through my S&W Bodyguard. Not a hiccup. I will be back for more,. great people,great prodducs, outdstanding service
you provided the stock, service, can do attitude,and delivery that I searched for. THANKS Sparky8603
September 28, 2014
Clean Ammo
I have always had good luck with Blazer Brass and LG!!!
380 Auto - 95 Grain FMJ - Blazer Brass - 50 Rounds Variations
380 Auto - 95 Grain FMJ - Blazer Brass - 50 Rounds Questions and Answers
380 Auto - 95 Grain FMJ - Blazer Brass - 50 Rounds Price History