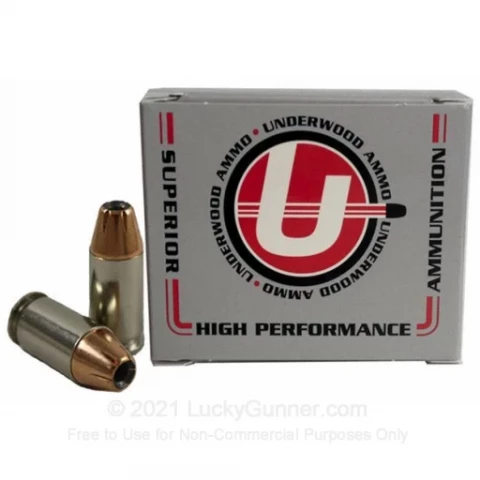 380 Auto - 90 Grain JHP XTP - Underwood - 20 Rounds for Sale
Product Description
Don't compromise your safety by loading your 380 Auto handgun with inferior ammunition. Underwood loads their self-defense cartridges with premium components, including the XTP jacketed hollow point by Hornady!

This round's 90 grain JHP's jacket possesses multiple performance enhancing features. It shields the … read more full rim of the nose cavity, which helps to avert a jam that could cause the pistol to fail to fire. The multiple notches around the jacket's rim strategically weaken it, thus enabling terminal expansion to take place with greater reliability. The XTP bullet's jacket also thickens toward its base, which allows it to enhance even more uniform expansion.

The XTP's accuracy is so good that many people prefer the self-defense bullet for competitive shooting. Its superior in-flight balance is assured by its uniformly distributed swaged lead core as well as its intensely concentric jacket, and its aerodynamic profile keeps the XTP's nose always pointed downrange.

Underwood seats Hornady's XTP in a new brass case. Its nickel plating cuts down on friction which could complicate feeding in a semi-auto, and also prevents corrosion. Underwood's powder is specially formulated to emit less light when ignited. This helps the shooter preserve their night vision in the event they ever have to empty their magazine in the dark.

380 Auto is the same thing as 380 ACP.
380 Auto - 90 Grain JHP XTP - Underwood - 20 Rounds Comparisons
380 Auto - 90 Grain JHP XTP - Underwood - 20 Rounds Variations
380 Auto - 90 Grain JHP XTP - Underwood - 20 Rounds Questions and Answers
Asked by
Unknown
1 year ago
Barel length, with regard to your product info specs.
Thanks for reaching out Jeff! Underwood used a 3.8" barrel to record this round's muzzle velocity.
380 Auto - 90 Grain JHP XTP - Underwood - 20 Rounds Price History