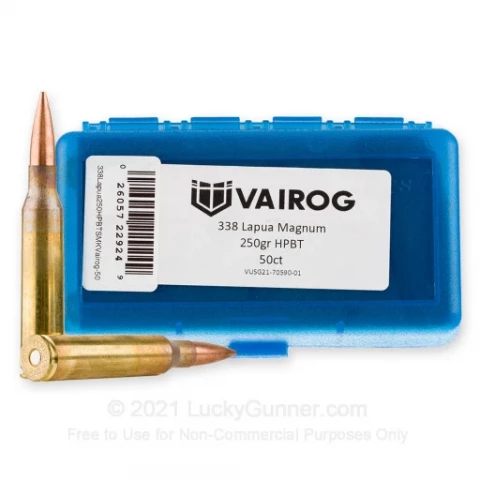 338 Lapua Magnum - 250 Grain HPBT MatchKing - Vairog - 50 Rounds for Sale
Product Description
One of the most accurate long-range rifle cartridges meets one of the most accurate long-range rifle bullets. This 338 Lapua Magnum ammunition by Vairog is loaded with the MatchKing by Sierra so you can ring steel time zones away!

The MatchKing is Sierra's … read more preeminent competition bullet, which has won more matches than all other manufacturers' bullets – combined. It achieves this with the aid of its match jacket, which is drawn within a concentricity standard of ±0.0003", as well as its weight which is held within a standard of ±0.3 grains. The MatchKing's uniform dimensions are further complemented by its form-fitting lead core, as well as its boat tail which enhances its G1 ballistic coefficient to 0.600. By our math this round's velocity shouldn't become subsonic until 1,370 yards!

Vairog loads this 338 Lapua Magnum sharpshooting ammunition at their production facility in Cleveland, Tennessee. They use only match-grade brass, primers and propellant charges, and adhere to a stringent quality assurance protocol from phase one until final inspection.
338 Lapua Magnum - 250 Grain HPBT MatchKing - Vairog - 50 Rounds Comparisons
338 Lapua Magnum - 250 Grain HPBT MatchKing - Vairog - 50 Rounds Variations
338 Lapua Magnum - 250 Grain HPBT MatchKing - Vairog - 50 Rounds Questions and Answers
338 Lapua Magnum - 250 Grain HPBT MatchKing - Vairog - 50 Rounds Price History