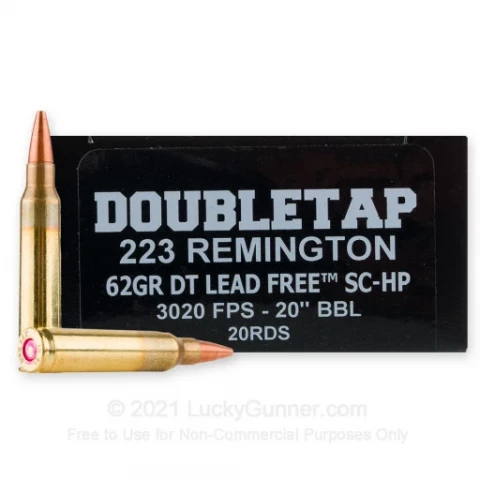 223 Rem - 62 Grain TSX - Doubletap - 20 Rounds for Sale
Product Description
This 223 Rem ammo by Doubletap serves a double purpose. Take it out into the woods and no hog or deer is going to want to cross paths to you. Chamber it in your rifle when someone breaks into your house, and … read more you'll be about as prepared as it's possible to be. That's because Doubletap loads this cartridge with the 62 grain TSX bullet by Barnes!

The TSX's defining characteristic is its monolithic copper construction. The lead-free bullet penetrates very deeply because it hasn't got a jacket that could shed apart from its core, and copper is a very tough metal in its own right. The environmentally friendly bullet also eliminates lead fouling of the barrel, and keeps toxic residues away from any meat you might like to grill.

The TSX features multiple pressure-relieving grooves in its shank. These alongside the balanced bullet's precision heel radius make it extremely accurate. The TSX follows up its accuracy with decisive terminal performance. As its nose cavity fills with soft tissue, it curls out four sharp cutting petals that really do a number on any animal's anatomy. The TSX consistently doubles its diameter as it bores into its target!

Doubletap loads these hunting/self-defense loads with corrosion resistant nickel-plated cases. Nickel additionally reduces friction, so you can depend on these deadly tack drivers to cycle efficiently through any compatible semi-auto rifle.
223 Rem - 62 Grain TSX - Doubletap - 20 Rounds Comparisons
223 Rem - 62 Grain TSX - Doubletap - 20 Rounds Variations
223 Rem - 62 Grain TSX - Doubletap - 20 Rounds Questions and Answers
223 Rem - 62 Grain TSX - Doubletap - 20 Rounds Price History