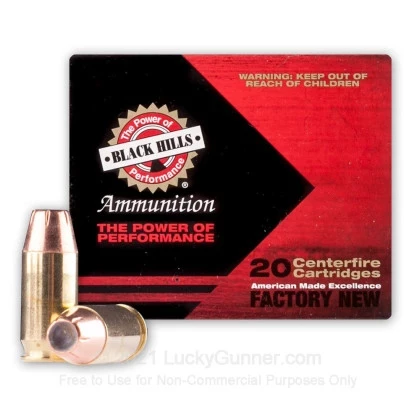 45 ACP - 185 Grain JHP - Black Hills - 20 Rounds for Sale
Product Description
The 45 ACP has been around for over a century and is one of the most popular and effective handgun rounds in existence. Developed in 1906 and featured on the Colt Model 1911 semiautomatic pistol, the 45 ACP has been proven through … read more military, civilian, and law enforcement service all over the world. When you need something with incredible stopping power and fantastic damage capacity, the 45 ACP is the round for you.
Black Hills has earned a reputation for producing premium ammunition that is extremely reliable and consistent. Currently all branches of the US Military purchase match grade 5.56x45mm round from BHA for their long range shooting competitions. If you want incredible, high performing ammunition that is made in America, Black Hills is the way to go.
These 45 ACP rounds feature 185 grain jacketed hollow point projectiles that offer controlled expansion for self defense situations. Each bullet is loaded into a boxer primed brass casing that can be reloaded. These rounds fire at 1000 feet per second and deliver the hard hitting knock down power you need in those critical moments.
45 ACP - 185 Grain JHP - Black Hills - 20 Rounds Comparisons
45 ACP - 185 Grain JHP - Black Hills - 20 Rounds Variations
45 ACP - 185 Grain JHP - Black Hills - 20 Rounds Questions and Answers
45 ACP - 185 Grain JHP - Black Hills - 20 Rounds Price History