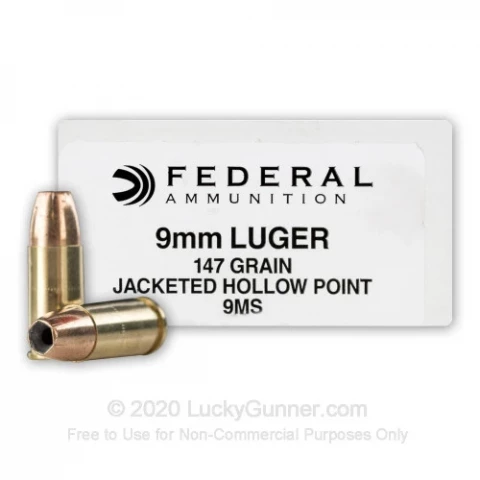 9mm - 147 Grain JHP - Federal Hi-Shok - 50 Rounds for Sale
Product Description
Government contract overrun, this batch is now available to the civilian market for a limited time!

This law-enforcement product is the next generation in high performance duty ammunition. This product offers consistent expansion and optimum penetration for terminal performance. A specially designed … read more hollow-point tip won't plug while passing through a variety of barriers and this bullet holds its jacket in the toughest conditions.

Federal, owned by ATK (the largest ammo producer in the USA), is a top notch, high quality producer of ammunition - you can't find a better self-defense ammunition!
9mm - 147 Grain JHP - Federal Hi-Shok - 50 Rounds Comparisons
9mm - 147 Grain JHP - Federal Hi-Shok - 50 Rounds Reviews Excellent Ammo
I bought 1000 rounds back in July. Tried it in several pistols and will now have to force myself to use up my Magtech and S & B rounds. Both great rounds but not in the same league as the federal 9mm 147 gr hollow point! Great price
I am very happy with the this ammunition. Loved shooting my new 9mm.
Will buy again!! Thank you! Federal ammunition-positive
Through internet research I realized this code '9MS' Federal 147 gr. 9mm Ammo was what you might call the Gen 1 FBI load. In my tests in water it performed only slightly less than top of the line modern 147 h.p. And for approx less than 1/2 price, I consider it a 'poor man's' practice/defense ammo. BTW, my G'son ate out the center of a target(rapid-fire) with them. They are… read more just fine. Service thru Luckygunner was excellent . Works great but...
Ran flawlessly through my 226, but not sure if a got a weird couple of boxes but the bullets were dinged up and all the brass casings looked at least once-fired. In the end it still fed great though. Great ammo
This 147 gr. Hi shock ammo has shot flawlessly in my finicky Kimber custom 2 1911. So far I have put 350 rounds thru it, zero issues. This is reasonably priced ammo so it's great for the range, and being hollow point should serve well for home defense. Glad I gave this a try. Would recommend! Thanks Lucky Gunner you're always great. I found my ammo!
I tried this ammo in my ATI MilSport 9mm canned rifle. I had tried about 5 different brands, FMJ and HP, and was getting 2-3 inch groups at 50 yards. I tried this Federal ammo, and immediately got consistent sub-MOA 5-round groups. Considering a lot of 9mm ammo comes in 20-rnd boxes, you're paying about the same price for twice the ammo, and with better accuracy. Yes, I am buying… read more more. Great ammo and awesome service
I ordered 300 rounds late Wednesday night and received a very well packaged box before noon on Friday. I took 100 rounds to the range that same day and after firing about 150 rounds of 115 gr I switched to the 147 gr JHP. I was more accurate and had tighter groups using this in my Shield than any other ammo I have used previously. Combining the ammo with the excellent turn around… read more time and great price I couldn't be happier. Great Service, Very Accurate and Consistant Round!
I went to the range with my friend and shooting mentor. Since I had just received my case of 1,000 rounds, I handed him a box and said try these! He said it was a waste to use such an expensive round at the range. Well, actually not much more than store bought target rounds, but since they are being considered for personal defense, I wanted some feedback. We both shot a magazine… read more or two through a CZ-75 (4.88"), a Browning Hi-Power, and an M&P Shield subcompact. Even the M&P shield was accurate, but the CZ and the Hi-Power were deadly at 30'. I can hear you saying 30', big deal! Well it is to me, because the bullets not only hit the target, but were nicely grouped. We shot several other pistols of different calibers, but the two nice 9mm's with the Federal 9mm 147grain JHP's were very reliable. My main reason for obtaining this bullet was for the M&P Shield. It worked very well with it. No failures of any kind in any of the pistols! I am satisfied! Good place/Good ammo
Fired about 250 rounds last weekend at the range. Tried out my new M11A1. Everything went smoothly. Nothing but, bang, bang, bang. I've ordered lots of ammo from Lucky Gunner. Always great service and always great products. fscdebate
February 13, 2016
Great ammo; great customer service
Luckygunner did a great job delivering. They are wonderful to buy from. No problems. I shot this through my Glock 19. It ran great. NO issues whatsoever. Happy Customer
I picked up a case a while back. I run this stuff though my Sub2k and it's very soft shooting and accurate. Good quality ammo. It's not a very 'hot' round at 1000 FPS, but it's perfect for a PCC. It's clocking just shy of1200 FPS out of a 16" barrel and is super controllable, extremely reliable with an average-to-good 147g HP pill. For the price, it's unbeatable, especially for… read more a carbine. For pistols and such, I prefer the new HST round - but that aint cheap. Anyway, I'm a happy customer and I'm a big Lucky Gunner fan.
9mm - 147 Grain JHP - Federal Hi-Shok - 50 Rounds Variations
9mm - 147 Grain JHP - Federal Hi-Shok - 50 Rounds Questions and Answers
9mm - 147 Grain JHP - Federal Hi-Shok - 50 Rounds Price History