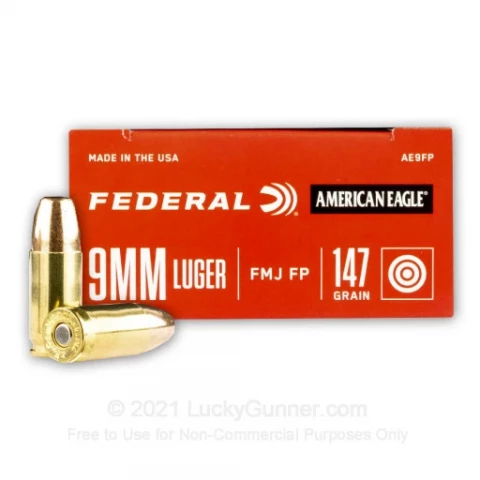 9mm - 147 Grain FMJ FN - Federal American Eagle - 50 Rounds for Sale
Product Description
Manufactured under Federal's American Eagle brand, this product is brand new, brass-cased, boxer-primed, non-corrosive, and reloadable. It is a staple range and target practice ammunition.

This is top of the line, American-made range ammo - it doesn't get any better.

According to … read more Federal's website, the muzzle velocity on this cartridge is 1,000 FPS.
9mm - 147 Grain FMJ FN - Federal American Eagle - 50 Rounds Comparisons
9mm - 147 Grain FMJ FN - Federal American Eagle - 50 Rounds Reviews Good Practice round for my Glock 43 - that matches weight of my carry round
I recently made the change to Federal Premium HST at 147 Gr for my carry round and wanted a practice round at the same weight. I got these American Eagle 147 Gr FMJ rounds for that purpose (practice). I have fired a couple of 50 round boxes so far, and the performance has been flawless. Just what I needed and at a decent price. Happy Customer, will purchase again. Great ammo for the range
My P226 seemed to like this ammo. No issues at all. The ammo is clean to run, accurate, and low recoiling. I will buy this again for sure. Several reviewers used the term "smooth", I would have to agree, that sums this ammo up well. the shootist
June 15, 2016
Great ammo
I just bought a sig P938. I wanted to try 9mm, 115, 124 & 147 grain. All worked flawlessly. I use this type of ammo for training only. As a peace officer I carry Federal law enforcement ammo. I'll keep buying the other ammo for training. Nice practice ammo
I use 147 gn ammo for carry and this has similar balistics, so it is good for training. No malfunctions in about 100 rounds. got the 9mm ammo both the 124 & 147gn
took both the 124 & 147gn 9mm ammo to the range, it was great, used it in my kimber solo and not a hiccup shot great and cycled great, no jams sgt124sigbn
July 27, 2015
no misfires
Glock19 love this ammo over1000 rounds no jamms highly recommended for the glock19 Excellent Value and Quick Shipping
I needed to have the ammo for a qualifier and was running out of time. I placed the order and received it 3 days later on time. Great quality and service as always! Unexpectedly great!
I also was expecting this to kick a little more and suffer with accuracy being 147 gr, but i figured since it was the only thing available I'd give it a try. Surprisingly this ammo was the smoothest and most accurate shooting I've ever had out of my Glock 19. I was grouping much better at 12-15 yards (touching holes 29 of 30 shots) with this than 7 yards with Remington green box… read more 115 gr common practice rounds. It is more expensive so I won't be getting lots of it, but I will for sure go to these for training classes and such when I want to perform my best. MothballViking
April 27, 2012
Very smooth!
I always practice with 115 and 124 grain ammo, so I expected 147 grain to have a bit more kick. Not so. In fact it was very smooth to shoot in both my G19 and XDM and it may just be my wishful thinking, but I felt my accuracy was noticeably better than the WWB and Rem UMC I normally shoot. The price is about 50% higher however, but I'll definitely be back for an occasional 5 or… read more 10 boxes. awesome product
I was very pleased with this product performance i think it is a quality product.
9mm - 147 Grain FMJ FN - Federal American Eagle - 50 Rounds Variations
9mm - 147 Grain FMJ FN - Federal American Eagle - 50 Rounds Questions and Answers
Asked by
Unknown
2 years ago
Hi Robert. This is subsonic ammunition. This will be the case with most 147 grain 9mm ammo. The muzzle velocity on this particular round is 1000 fps.
9mm - 147 Grain FMJ FN - Federal American Eagle - 50 Rounds Price History