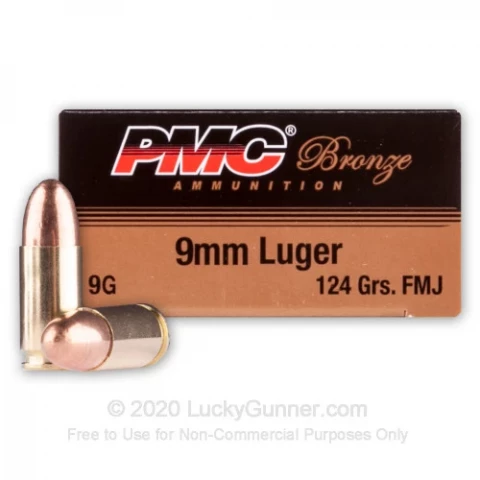 9mm - 124 Grain FMJ - PMC - 1000 Rounds for Sale
Product Description
This PMC 9mm ammo is dependable shot after shot making it great for target practice and range training!

PMC ammunition is manufactured in South Korea by the Poongsan Corporation (ISO certified) which produces cartridges ranging from small arms ammunition to large howitzer rounds … read more for the S. Korean military. The Poongsan Corporation dates back to 1968 and since its founding it has grown to become on one of the world's largest manufacturers and suppliers of ammunition. The Poongsan Corporation's primary mission is to make South Korea fully self-reliant for their ammunition needs. Taking advantage of their high standards required through the military's reliance on their ammunition, their excess capacity is highly sought after throughout the world's commercial markets. In the United States, their reliable range ammo has become a standard for excellence and consistency.

In addition loading cartridges, PMC also manufactures all of their own components from raw materials. This complete control over the supply chain allows for PMC to control the quality of each component providing for greater consistency than ammunition loaders that source their materials from a variety of suppliers.

This precision manufactured ammunition is brass-cased, boxer-primed, non-corrosive, and reloadable.
9mm - 124 Grain FMJ - PMC - 1000 Rounds Comparisons
9mm - 124 Grain FMJ - PMC - 1000 Rounds Reviews Dr_ Joe
February 17, 2020
Great ammo at a great price. Good value!! Very fails.
Accurate Reliable Good pricing Enough said.... Reliability
I've shot three gun for three years and have bought all kinds of ammo for my 223 and 9mm. I first purchased PMC because of the price but realized that is the most reliable and accurate ammo I have found. I have done experiments with all the competitors and will not shoot anything else. This year alone I have shot about 6k rounds of 223 and about 8k 9mm without one failure due… read more to this amazing ammunition. The Only 9mm ammo I buy....
In the years I've been purchasing 9mm ammo PMC has become my GO TO.. Since I've been using it I have yet to have an issue in both 1911 and carbine.. Price and availability is always good and as so I will go on using it... Michael
December 18, 2017
Good clean ammo
Fires very reliably in my Kimber Custom II. Occasional FTE, but that may be the gun and not the ammo. This ammo is very clean, doesn't dirty the weapon much at all. Lucky Gunner has awesome delivery, usually at my door 2-3 days after ordering. Great value
Longtime user of this ammo, it's worked flawlessly so far in my Walther PPQ M2. Great price, super fast shipping. I will definitely purchase from luckygunner again. Good Value Ammo
Haven't had any misfires to date. Doesn't dirty my firearms to bad. Good value and really fast delivery. frankjordiezach
September 29, 2016
Great rounds
Clean firing, so few errors that it's not a concern. Just wish they were American made. Runs flawless in my Kimber
I have shot many different kinds of ammo through my Kimber Target II 1911. The PMC 124 grain 9mm is the only ammo that runs through it without errors. Excellent ammo and service
I am a repeat customer and am pleased with service provided High value, Good performance
This is about as good as it gets for plinking ammo. Decent accuracy, good quality and flawless function out of our Glock 17 Gen 4's Best bang for the buck
Super reliable and clean. My favorite target ammo. Great Purchase
Great buy for the money! Dependable ammo that feeds well and performs just as expected.
9mm - 124 Grain FMJ - PMC - 1000 Rounds Variations
9mm - 124 Grain FMJ - PMC - 1000 Rounds Questions and Answers
9mm - 124 Grain FMJ - PMC - 1000 Rounds Price History