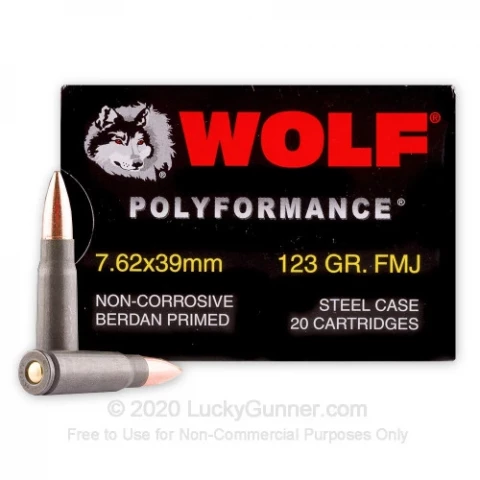 7.62x39 - 123 Grain FMJ - WOLF WPA Polyformance - 1000 Rounds
Rifle Ammo
|
7.62X39
7.62x39 - 123 Grain FMJ - WOLF WPA Polyformance - 1000 Rounds for Sale
Product Description
Newly manufactured Wolf WPA Polyformance, this steel cased ammo is excellent for training with your AK-47.

Manufactured in one of Wolf's legendary production facilities in Russia. This product is steel-cased and Berdan-primed. It's non-corrosive and non-reloadable.
7.62x39 - 123 Grain FMJ - WOLF WPA Polyformance - 1000 Rounds Comparisons
7.62x39 - 123 Grain FMJ - WOLF WPA Polyformance - 1000 Rounds Reviews BillyBob
December 7, 2019
AWESOME
I use this ammo alot in my SKS. GREAT AMMO Solid steel target ammunition
Another winner from WOLF. For the steel case ranger, this is a fantastic round. Slightly less expensive than the military classic line, it still delivers a powerful, clean punch perfect for plinking. Will Only Use Wolf Polyformance
Its the best round for its price. It is the only round I shoot thru my Russian SKS. Great buy, ammo, company!
Can't find better prices anywhere else. Shipping is faster then fast. I received my shipment in less than four days from placing the order. Heading to the range now to put this ammo down range. You won't be disappointed. Outstanding ammo!
I have used in excess of 3,500 rounds of Wolf Polyperformance 123grn FMJ through my Rifle Dynamics RD701 AK for which the ammo performed outstanding! Reliable and consistent ammo. In addition, I regularly use the Wolf Polyperformance 123grn FMJ out to 400 yards with consistent performance on a 12 inch AR 500 steel target. Awesome
Great product, and great distributer. Arrived two days before estimated. Lucky finding this ammo.
Bought 500 rounds shot 300 of them and like all the other positive posts said, this is great stuff. Yes, I would buy it again and I will tell all my friends. Thanks Lucky. Good
Arrived a few days ago shot almost 500 rounds through my wasr 10 ak no jams ,good value BobSaget
October 30, 2016
Bullets go boom
Purchased the 1000 rds about a month ago. Have shot about 300 rounds about now.. no misfires no failure to feed or anything like that,, good product!! Shipping was adequate too Wolf. Good ammo.
I have used the wolf, sure fire I would say quite accurate, within 100- 150 yards easily bust small field-stone and cans easily! Hot ammo, and clean enough to shoot in your AR. Good ammo, great service
Have shot over 5,000 rounds of this ammo over the past few years. Very reliable in both SKS and Arsenal Saiga AK. Not match ammo by any means but great for 100M and in. Unbelievably good
Bought 1000 rds. to run through my mini 30. Shot close to 300 rounds , not one issue. Accurate enough for me, will buy more
7.62x39 - 123 Grain FMJ - WOLF WPA Polyformance - 1000 Rounds Variations
7.62x39 - 123 Grain FMJ - WOLF WPA Polyformance - 1000 Rounds Questions and Answers
7.62x39 - 123 Grain FMJ - WOLF WPA Polyformance - 1000 Rounds Price History