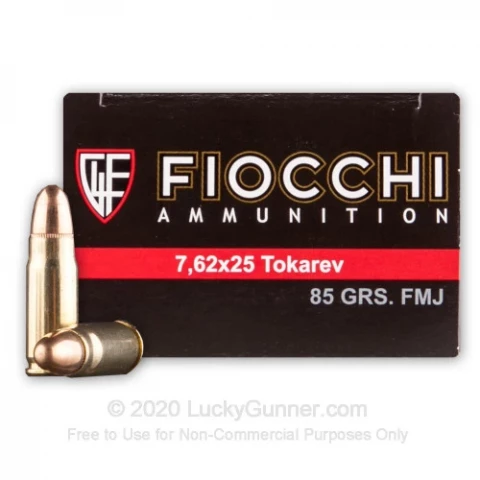 7.62 Tokarev - 85 Grain FMJ - Fiocchi - 50 Rounds for Sale
Product Description
These 7.62 Tokarev rounds from Fiocchi are a great choice for high quality range training and target practice. Each cartridge in this box of 50 feature a 85 grain full metal jacket projectile that averages 1,525 feet per second at the muzzle. … read more Fiocchi loads this new production ammo into fresh brass cases that come boxer primed and are re-loadable.

Fiocchi ammunition has a reputation for being very reliable and consistent, perfect for quality range time. Their Classic loads feature modern, non-corrosive primers and smokeless powers, bending modern technology with vintage cartridges.

Fiocchi has been producing ammunition and loading components since 1876. They are headquartered in Lecco, Italy and have a manufacturing facility located in Ozark, Missouri. Fiocchi offers their customers a very comprehensive lineup of centerfire and shotshell ammunition, including several vintage calibers.

Pick up a couple boxes of this Classic 7.62 Tokarev ammunition before your next day out at the range!
7.62 Tokarev - 85 Grain FMJ - Fiocchi - 50 Rounds Comparisons
7.62 Tokarev - 85 Grain FMJ - Fiocchi - 50 Rounds Reviews Solid choice for an off-the-path caliber
There aren't a lot of options for 7.62x25mm, but I bought a few boxes of this to try in a recently acquired Zastava M57. Then I bought a few more. This stuff works. It's not too dirty and I haven't had a single hiccup with this ammunition.
7.62 Tokarev - 85 Grain FMJ - Fiocchi - 50 Rounds Variations
7.62 Tokarev - 85 Grain FMJ - Fiocchi - 50 Rounds Questions and Answers
7.62 Tokarev - 85 Grain FMJ - Fiocchi - 50 Rounds Price History