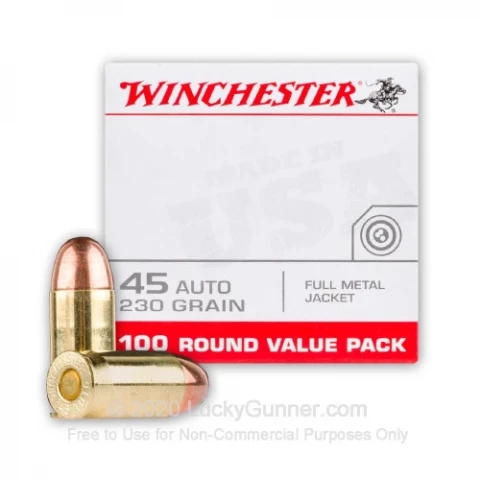 45 ACP - 230 Grain FMJ - Winchester USA - 500 Rounds for Sale
Product Description
Manufactured by the legendary Winchester Ammunition Company, this product is brand new, brass-cased, boxer-primed, non-corrosive, and reloadable. It is a staple target practice and training ammunition.

Winchester began offering its quality product in 1873 and has been providing the citizens and military of … read more the United States with the same standard of quality ever since.
45 ACP - 230 Grain FMJ - Winchester USA - 500 Rounds Comparisons
45 ACP - 230 Grain FMJ - Winchester USA - 500 Rounds Reviews Always reliable
Can't go wrong Winchester clean in the whit box OLD TIMER
September 17, 2019
VERY HAPPY WITH PURCHASE
Met all expectations Delivery and choice
Rapid delivery is what sets Lucky Gunner apart. As well as selection. great rounds fast shipping
shot about 100 rounds so far no issues. super fast shipping Quality .45 ACP Winchester ammo with good cases for reloading.
This ammo is a decent price and is high quality. The FMJ bullets are too heavy for self defense purposes, but it makes excellent, reliable ammo for practice with any .45 ACP weapon. I do not get ricochets shooting at steel targets, so the ammo has plenty of power to avoid this problem. If it were any cheaper it would be another, lower quality brand. I stick with this stuff.… read more Keep up the good work! Good stuff
Great ammo. Able to use at indoor ranges. Shot several hundred rounds through my Glock suppressed and unsuppressed without issue. Fast shipping.
Fast shipping, have not shot them yet. Great Value
I have a Kimber Ultra and it performs flawlessly. Just burned 200 rounds today and accurate and no malfunctions. I will order more of this for sure. Abizzaman
August 18, 2016
Firearm worthy
I carry a remington 1911 commander. This ammo performed As expected. So far Every round cycled and fired. It seemed noticeably cleaner to me sitting there with it all apart after the range shoot. Worth the the price. Shopping was fairly quick. Neatly protected packaging from Lucky Gunner. I always worry about it sitting out at my door in the rain. Thanks LG! High quality ammo at a great price
This Winchester 45acp is a great quality ammo at a price that makes it extremely affordable my Sig229 worked flawlessly with this ammo, lucky gunner provided fast shipping and this product is made in the USA, I have recommended lucky gunner to several friends. MasterchiefDad
April 9, 2016
Great ammo
Went through about a 100 rounds so far. Works flawlessly in my Kriss Vector. Loving the precision. Would buy again. No jams or misfire's
Went to range and shot 150 rounds thru my Colt Defender , no jams or misfire's. fast shipping will purchase again. Thanks Lucky Gunner
45 ACP - 230 Grain FMJ - Winchester USA - 500 Rounds Variations
45 ACP - 230 Grain FMJ - Winchester USA - 500 Rounds Questions and Answers
45 ACP - 230 Grain FMJ - Winchester USA - 500 Rounds Price History