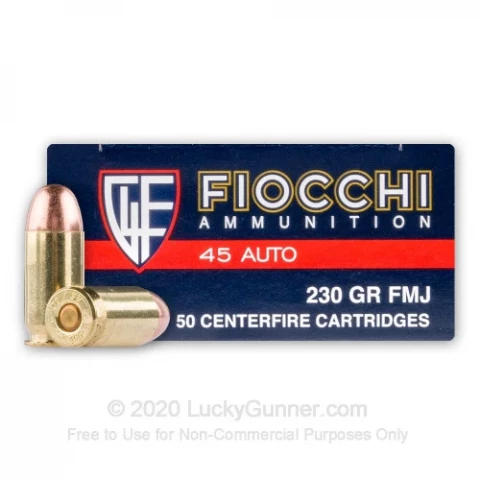 45 ACP - 230 Grain FMJ - Fiocchi - 50 Rounds for Sale
Product Description
Shooting Dynamics is a solid line, offering quality and consistency for the high-volume shooter and hunter. The same quality and consistency as other Fiocchi ammunition, at a price that will allow for more hunting and shooting.

This ammunition is new production, non-corrosive, … read more in boxer-primed, reloadable brass cases.
45 ACP - 230 Grain FMJ - Fiocchi - 50 Rounds Comparisons
45 ACP - 230 Grain FMJ - Fiocchi - 50 Rounds Reviews 1st Time buyer
LG gave me a good price on this ammo, which worked perfectly in my SIG 1911. Very fast shipping as well. The Ripper
October 2, 2015
Excellent Range Ammo
I see people here criticizing this ammunition for being dirty but I have had nothing but excellent results with it and it is absolutely as clean as anything else in the price category. Fiocchi is clean, accurate, high quality range ammo. Nolo Contendre
March 6, 2015
My favorite Range ammo by far....
I'm a high volume shooter who gets to the handgun range at least one or two times every week and I've shot tens of thousands of rounds of Fiocchi .45ACP and 9mm 115 grain FMJ. It's my preferred ammo regardless of price due to its consistent reliability and accuracy. Lucky Gunner is simply the best. Bragdon - NJ
May 16, 2014
Filthiest Ammo I've Ever Fired
I fired quite a bit of Fiocchi 9mm ammo last year and was very satisified. Based on that experience, I purchased this. Notwithstanding that this .45 ammo performed well, it was the filthiest ammo I've every fired. After 100 rounds my hand was black and took more than several washing with lead cleaning soap to clean. My gun's ejection port and barrel required repeated cleanings. reloaders be ware. small pistol primer cases
the 5 boxes I got last week turned out to be all small pistol primer in the 45 acp case. Good ammo, great value.
This is a good ammo at a good price. I used it with my Glock 30 and no problems whatsoever. I will use it again. MrShooter
August 14, 2012
Trash
The ammo is very dirty when firing. It made my 1911 black and all different colors on the nose of the gun. But it shot fine other than being dirty. Michigansf
August 4, 2012
Very happy with Fiocci ammo
Good stuff, great value. People at Gunner shipped as promised. HAWKEYE-1911A1
June 14, 2012
EVERYDAY SD CARRY
I have carried the .45 ACP, for over 10 years in my Springfield "LOADED". I have NEVER had a miss feed, stove pipe, in any of the THOUSANDS, of rounds I have fed it. Priced right!!
I've shot hundreds of rounds with no problems. What more can you ask for!! Remmington R1 Enhanced
April 14, 2012
compared to 3 other brands
Test fired 4 brands of .45 ACP at the pistol range this weekend. Grouping for the Fiocchi were by far the tightest. good practice ammo
good for practice
45 ACP - 230 Grain FMJ - Fiocchi - 50 Rounds Variations
45 ACP - 230 Grain FMJ - Fiocchi - 50 Rounds Questions and Answers
45 ACP - 230 Grain FMJ - Fiocchi - 50 Rounds Price History