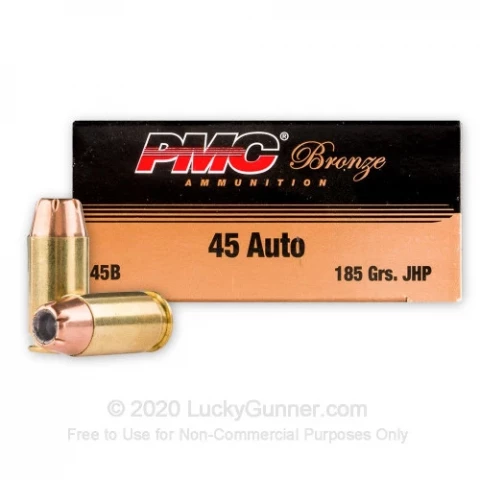 45 ACP 185 gr JHP - PMC - 50 Rounds for Sale
Product Description
This 45 ACP 185 gr JHP PMC ammo is great for personal defense with its jacketed hollow point bullet design. The cavity in this JHP projectile is designed to expand on impact creating a larger terminal wound cavity to quickly bring … read more down an attacker.

PMC ammunition is manufactured in South Korea by the Poongsan Corporation (ISO certified) which produces cartridges ranging from small arms ammunition to large howitzer rounds for the S. Korean military. The Poongsan Corporation dates back to 1968 and since its founding it has grown to become on one of the world's largest manufacturers and suppliers of ammunition. The Poongsan Corporation's primary mission is to make South Korea fully self-reliant for their ammunition needs. Taking advantage of their high standards required through the military's reliance on their ammunition, their excess capacity is highly sought after throughout the world's commercial markets. In the United States, their reliable range ammo has become a standard for excellence and consistency.

In addition loading cartridges, PMC also manufactures all of their own components from raw materials. This complete control over the supply chain allows for PMC to control the quality of each component providing for greater consistency than ammunition loaders that source their materials from a variety of suppliers.

This precision manufactured ammunition is brass-cased, boxer-primed, non-corrosive, and reloadable.
45 ACP 185 gr JHP - PMC - 50 Rounds Comparisons
45 ACP 185 gr JHP - PMC - 50 Rounds Reviews excellent value
Use in my milspec Springfield 1911. Flawless performance at a bargain price. Accuracy equal to +P loads, Remington, Hornady etc. Great rounds
Great rounds 185 gr is more accurate and travel better. Great ammo!!
This is the ONLY ammo that my Sig 3.3" will shoot flawlessly. Over 500 rnds and not a single FTE or FTF! I trust this ammo with my life, literally, as that is my carry gun. At the range it is more accurate than I am. Jarhead8156
February 2, 2015
.45 ACP rounds getting pushed into case while chambering
I have shot literally tons of this stuff and recently bought a SW XDM match. I noticed that about 6 rounds out of 50 have been pushed into the case. This is happening during the chambering. The rounds were pocketed and I contacted PMC and am awaiting a response. Other than that, they expand beautifully and are fairly accurate out of my 4 1/2" match barrel. tarantulacan't go wrong
January 13, 2015
can't go wrong for self defense or range goes bang 100% of the time. accuracy is great
the 185 gr. jacketed hollow point will not disappoint it is every bit as effective as 90% of the rest of the "premium" defense ammunition on the market the 45 ACP round itself hits hard in this particular brand is an excellent in between self defense and range product I'll tell you this much the expansion is good and no FTFs in my Springfield xD excellent product for the money and… read more ask yourself this would you want to be hit by one of these not me can't here. Super 45ACP ammo
This ammo always loads and ejects perfectly and the accuracy is right on! What more do you want!! Good price, reasonable shipping- will buy more from you-thanx!
My Glock36 and my 1911 govt both prfere PMC Bronze ammo. They feed without a hitch and burn clean. I use the 185gr for range and CCW as the JHP gives more than enough velocity and expansion. Once I found PMC two years ago I only buy PMC ( when I can find it!0 Ambulance Driver
January 10, 2014
Great ammo for the cost
Tested 100 rounds through my officer's model 1911. Functioned flawlessly, no failures to feed, fire or eject, as accurate as any factory ammo I've used, with the exception of premium defensive ammo. It's a little dirty, but not so much as other cheap range fodder. If you want some inexpensive practice ammo similar to your premium defensive carry loads, this stuff won't disappoint.… read more Great Value.
Bought these for self defense due to price and experience with other PMC ammo in FMJ. Don't worry about the "internet experts", a well placed shot is far superior to an expensive round. Also a quality firearm is key to performance. Try em...:-) Personal Opinion!
December 16, 2013
Excellent reliability ! That's what matters the most !
Excellent reliability ! That's what matters the most ! james tuttle
September 11, 2012
Love it!
This 185gr 45 caliber shot just as well as the 230gr in my Para P-10. flawless! great ammo, will buy again
Great ammo, light weight for carry, accurate, and not to awful dirty either. I will buy them again.
45 ACP 185 gr JHP - PMC - 50 Rounds Variations
45 ACP 185 gr JHP - PMC - 50 Rounds Questions and Answers
45 ACP 185 gr JHP - PMC - 50 Rounds Price History