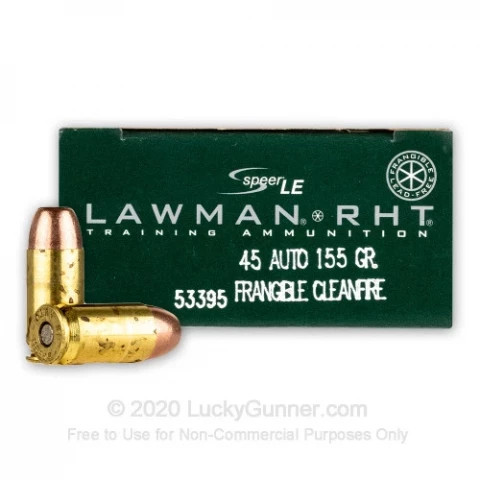 45 ACP - 155 Grain RHT Frangible - Speer Lawman - 1000 Rounds for Sale
Product Description
Do you shoot steel targets up-close, frequent a range with a hard backdrop, or spend a lot of time improving your marksmanship indoors? Then you're a prime candidate to train with this Lawman 45 ACP ammo by Speer!

This 45 ACP ammo is … read more loaded with Speer's Reduced Hazard Training bullet. It's frangible, meaning it's composed of sintered copper powder rather than solid metals. Such a bullet responds to collision with a hard surface by disintegrating entirely, not threatening its shooter with fast-flying bits of lead and copper as the result. The RHT bullet contains no lead at all, as a matter of fact, making all that powder it disperses into the air far safer to breathe around as you're training indoors.

This round features CCI's Clean-Fire primer, which is similarly lead-free. Thanks to that and its all-copper bullet, not even the heat of ignition will introduce particulate lead into your personal airspace. This round's easy to identify bullet weighs less than the usual .45 cal, but Speer still loads it to deliver conventional performance at the range. It's all tucked away in a reloadable brass case for smooth functionality in a semi-auto.
45 ACP - 155 Grain RHT Frangible - Speer Lawman - 1000 Rounds Comparisons
45 ACP - 155 Grain RHT Frangible - Speer Lawman - 1000 Rounds Variations
45 ACP - 155 Grain RHT Frangible - Speer Lawman - 1000 Rounds Questions and Answers
45 ACP - 155 Grain RHT Frangible - Speer Lawman - 1000 Rounds Price History