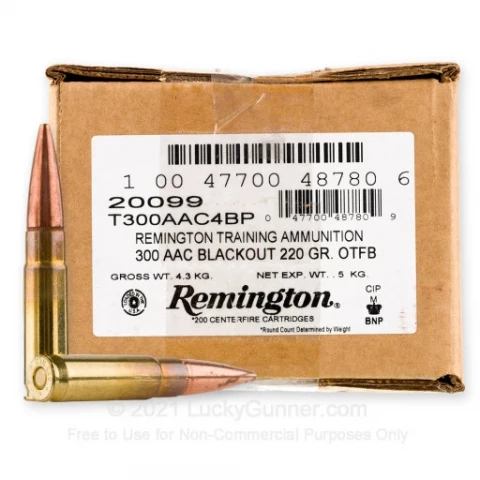 300 AAC Blackout - 220 Grain OTFB - Remington UMC - 200 Rounds for Sale
Product Description
It doesn't matter if your target is a collection of concentric rings printed on paper or a varmint – this subsonic 300 AAC Blackout ammunition by Remington is going to let you put a bullet through it.

This round's projectile is completely optimized … read more for accuracy. The OTFB's base is flat instead of angled, because that provides the most uniform possible surface for propellent gasses to exert their energy against. The OTFB's narrow meplat has a very small nose cavity. This is not to permit terminal expansion, but instead exists because the bullet's lead core was injected into place while it was still molten. A form-fitted lead core like that enhances excellent rotational stability.

This is the heavy-weight type of 300 Blackout round. Its 220 grain projectile is far too heavy to achieve a supersonic muzzle velocity, which makes its report much softer at the expense of steepening its overall shot trajectory.

Remington's UMC label ammo is manufactured in the USA with virgin brass cases, non-corrosive primers and clean-burning powder. Order your 200 rounds of reloadable 300 Blackout today!
300 AAC Blackout - 220 Grain OTFB - Remington UMC - 200 Rounds Comparisons
300 AAC Blackout - 220 Grain OTFB - Remington UMC - 200 Rounds Variations
300 AAC Blackout - 220 Grain OTFB - Remington UMC - 200 Rounds Questions and Answers
300 AAC Blackout - 220 Grain OTFB - Remington UMC - 200 Rounds Price History