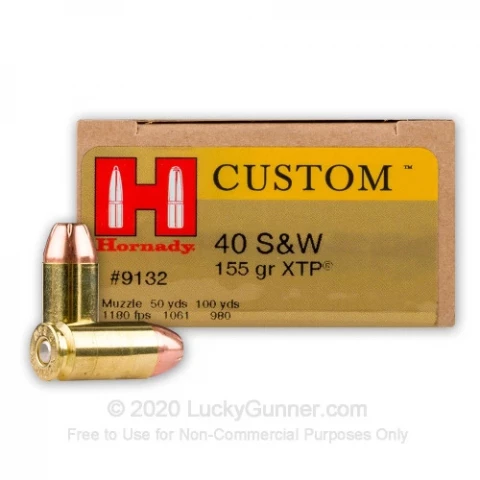 40 S&W - 155 Grain JHP XTP - Hornady Custom - 20 Rounds for Sale
Product Description
Looking for Self Defense Ammunition? Look no further!

Hornady's XTP line is a custom grade ammunition that has a great reputation among gun enthusiasts for having some of the tightest tolerances in the industry.

The renowned XTP bullet provides maximum knock down power.

It … read more features jacketed hollow point bullets which are designed to achieve high-impact energy transfer and controlled expansion upon impact.
40 S&W - 155 Grain JHP XTP - Hornady Custom - 20 Rounds Comparisons
40 S&W - 155 Grain JHP XTP - Hornady Custom - 20 Rounds Reviews HORNADY IS 1st CLASS QUALITY AMMO
I trust my life to Hornady. I use it in all my guns & my daddy used it too. Great product and service!
I have shot enough Hornady ammo to be 100% confident in its quality. These are loaded in my Glock 23 for one reason only and I hope I never have to find out how well the work. Great Ammo
Hornady makes the best ammo around. No issues high in performance. Buy it. You will be glad you did. High quality stuff
I love Hornady ammo. I just hate to send it down range too often. It hurts my pocket book. This and the Critical Defense rounds are what I use for my personal defense ammo. Excellent service
These lads know their business
40 S&W - 155 Grain JHP XTP - Hornady Custom - 20 Rounds Variations
40 S&W - 155 Grain JHP XTP - Hornady Custom - 20 Rounds Questions and Answers
40 S&W - 155 Grain JHP XTP - Hornady Custom - 20 Rounds Price History