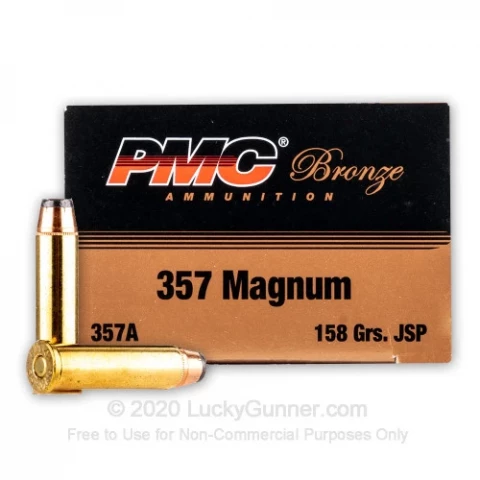 357 Mag - 158 Grain JSP - PMC - 50 Rounds for Sale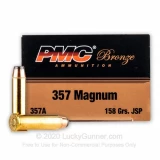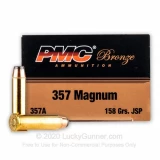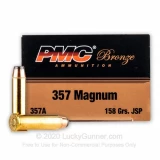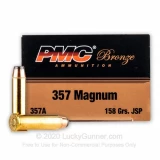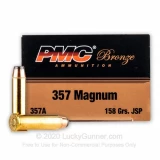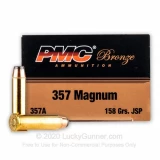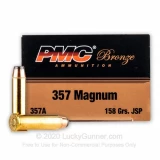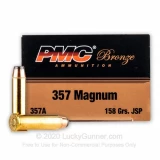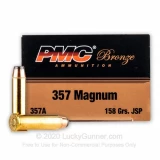 Product Description
Newly manufactured by PMC, this ammunition is great for target practice, range training, and home defense. It is both precision manufactured and economical serving as a great alternative to the steel cased products or the higher priced defensive products that are available.
Specifications
| | |
| --- | --- |
| Brand | PMC |
| Category | Rifle Ammo |
| Manufacturer | PMC |
| Condition | New |
| Caliber | 357 Magnum |
| Manufacturer SKU | 357A |
| UPC Barcode | 741569050173 |
357 Mag - 158 Grain JSP - PMC - 50 Rounds Comparisons
357 Mag - 158 Grain JSP - PMC - 50 Rounds Reviews Good product, reasonable price and quick shipping.
I would recommend this product and this website. First and Last time I buy this Ammo
I am not blaming Lucky Gunner for PMC's poor quality. I read the reviews after I placed my order, sure enough the shells have to be pushed out one at a time using a tool on my S&W revolver because the casing expands locking it in the cylinder. Trouble ejecting from Ruger SP101
I enjoy PMC ammo for my AR-15s, and it fires well. But this 357Mag ammo didn't function well in my short barreled Ruger SP101. Like others have said, nearly impossible to eject the spent casings. Like, multitool-pulling-it-out-hard. I'll keep it for emergencies/end of the world, but certainly not acceptable for daily carry. Great quality practice ammo
Excellent quality, fast shipping. Carefully packaged! excelant hunting round
Have used this round for several years now but the 2019 season was the best so far took two hogs and three deer a 10 and 8 point both standing under feeder 80 yards doe 55 yards and one hog 80 yards at feeder last one 42 yards. All were neck shots from my Henry 16" carbine with 3x9x40 Hawk scope. I also use it in my GP-100 6" bbl holds 2" at 50 if you do your part and Henry at… read more 100 yards will keep them in 1" all day long. All shots were verified using range finder all I can say is PMC keep cranking them out and don't change a thing. OK ammo, would not recommend
Shoots very accurately with little smoke. The problem I have is it hard to get the shells out of the cylinder of my S&W R8 revolver. The bottom 1/8" of the shells expand slightly when fired and they have to be forced out past the 1/8" point. Then they fall right out. I will not purchase again. Still will be a customer as this is the first time I've had a problem with any ammo from… read more Lucky Gunner. 357maddog
October 14, 2019
Good ammo all around burns clean
Great product Not to bad
Out of a 18.5 " barrel, 1589 fps 886 ft-lbs. Decent hunting round
I use this factory round for hunting game up to about 200 lbs. This PMC round is, responsible accurate and has good speed. It is fairly dirty and requires a good bit of cleaning after shooting. It knockes down bigger hogs easily. I got a nice pass through at 80 yards with this round from my 6" GP100 on a 180 lbs hog. Not that good for other revolvers.
Shot this through my TRR8 and it will be hard to eject the shell. Also it'll sometimes makes it hard to close the cylinder. I shot some Herters through the TRR8 and it seems to be ok so I knew that the TRR8 is picky with hotter ammo. The PMC runs nice through my 686 though so Im happy about that. Time to get rid of that TRR8. Just want to let you guys know that by reading the… read more other reviews here, some revolvers dont shoot well with the PMC 357 mag. So reconsider it before buying it. Solid performance
I've used this load for deer hunting for several seasons now. It gets the job done, what more can you ask for.
357 Mag - 158 Grain JSP - PMC - 50 Rounds Variations
357 Mag - 158 Grain JSP - PMC - 50 Rounds Questions and Answers
357 Mag - 158 Grain JSP - PMC - 50 Rounds Price History