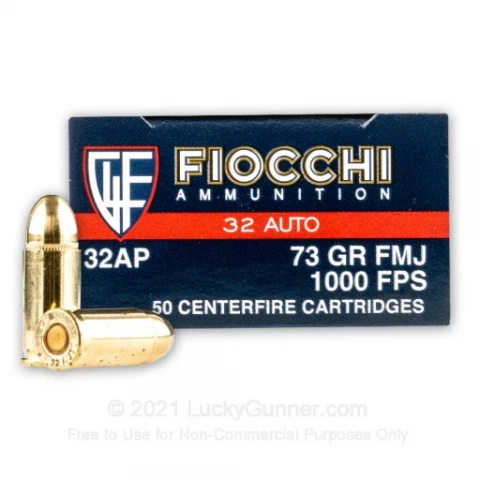 32 ACP - 73 Grain FMJ - Fiocchi - 50 Rounds for Sale
Product Description
Shooting Dynamics is a solid line, offering quality and consistency for the high-volume shooter and hunter. The same quality and consistency as other Fiocchi ammunition, at a price that will allow for more hunting and shooting. This ammunition is new production, non-corrosive, … read more in boxer-primed, reloadable brass cases.

32 ACP is the American designation for 7.65 Browning
32 ACP - 73 Grain FMJ - Fiocchi - 50 Rounds Comparisons
32 ACP - 73 Grain FMJ - Fiocchi - 50 Rounds Reviews Great product.
Purchased from a friend a 32 Mauser HSc taken off the line in Germany in 1944, ammo and I am the 4th owner. The ammo I purchased from you is great so far. It's a fun, accurate little gun, and It is nice to know I can count on the ammo. A great value! Bond James Bond
March 15, 2020
7.65 mm or .32 ACP; box of 50. Excellent ammunition at a good price. Service was great and just as promised. Item was one of 3; the others were also exactly as advertised.
See above....Review is the same as the summary. Kel-Tec P32 Power!
Bought this as .32acp is hard to find at the range, and if so it's typically hollow-point ammo which is extremely expensive and provides no real benefit in this caliber and can actually hinder performance if it expanded. This stuff is hot, it makes the P32 bark louder than my Glock 23, and has quite the snap to it. I don't think my P3AT even snaps this hard. Will be used at the… read more range, and also when carrying as a self defense round as it certainly will get the job done if you do your part. Also, if you research this cartridge has a slight bevel from the rim that helps prevent the rimlock many fear with .32acp auto loading pistols. Makes the issue virtually non-existent. I had just ordered 1000 rounds of 10mm and .40s&w Performance Elite ammo from another site. Took over a week and arrived severely damaged from improper packing. The ammo from Lucky Gunner was packed with care. This was my first time ordering from Lucky Gunner - order shipped not long after it was placed. Ordered 500 rounds on Friday morning, received it on Monday by noon via FedEx. Will always use Lucky Gunner going forward if the ammo selection is available. Thanks guys! Maz2331
February 12, 2018
Good Stuff
This is good ammo that has worked very well in my Beretta 3032. It is certainly loaded kind of warmish for the .32, so I probably won't use it as range ammo (Beretta advises to limit the 3032 to 130 fpe rounds) but it is what I carry in the magazine with a JHP in the pipe. Airborne1092
August 10, 2017
Reliable
...in a KelTec P32. Consistent chambering and extraction, I have yet to have a malfunction, as I've had with many other brand/weights (knock on wood)! zero problems
As usual, Ammo performs well. delivered promptly as usual ----every round cycled and fired like it is meant to!!!!
good ammo would like more Excellent ammo
Never had a misfire! perform flawlessly Howard J.
December 26, 2015
Great customer service. Thanks again Max
Max is great. Howard J.
December 26, 2015
Great practice ammo
Bought it for my 12 year old daughter for Christmas, Can't wait to shoot with her next week. Great price. Good ammo
Performs great, no mis-fires!! good buy. will use again. Work as advertised
Had an old S&W pistol of my grandmother's. Got it cleaned up and checked out by a gunsmith. Wasn't quite sure what to expect with a .32 pistol, but I was impressed with the pistol AND the ammo. Easy fire. No kick. Quick shipping too! This is my 2nd order from Lucky Gunner and not my last.
32 ACP - 73 Grain FMJ - Fiocchi - 50 Rounds Variations
32 ACP - 73 Grain FMJ - Fiocchi - 50 Rounds Questions and Answers
Asked by
Unknown
2 years ago
what fmj ammo would be ok in beretta 3032 in regards to 130fpe max
Hi Barry, That's a great question! The Beretta 3032 would work great with any FMJ 32 ACP such as (https://www.luckygunner.com/fiocchi-32-acp-ammo-for-sale-32auto73fmjfiocchi-50). However, almost all 32 ACP is around 160fpe and it will be difficult to g
Asked by
Unknown
2 years ago
Will these fit a 32 h&r mag
Sorry for the late response! 32 ACP will work in a revolver chambered for 327 Magnum or 32 H&R Magnum. You may be interested in our article on this very topic: luckygunner.com/lounge/can-you-fire-32-acp-in-a-revolver
Asked by
Unknown
2 years ago
Looking for the best ammo for a 32 Kel Tec.I this good? 32 ACP - 73 gr FMJ - Fiocchi Thank you
This Fiocchi 32 ACP round is a good reliable choice for breaking in a new P32 from Kel Tec. If you want to get a feel for hollow point ammo, I would also recommend trying the Bronze line from PMC. They make a 60 grain hollow point bullet, as well as a 71
32 ACP - 73 Grain FMJ - Fiocchi - 50 Rounds Price History