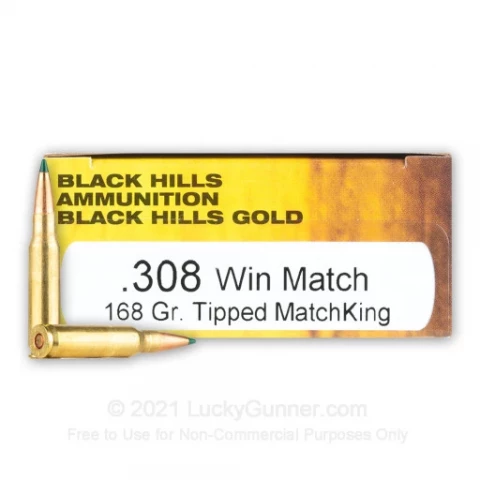 308 - 168 Grain TMK - Black Hills Gold - 20 Rounds for Sale
Product Description
Sierra's MatchKing has won devoted fans and countless trophies the world over. Their match accurate target bullet exhibits better balance than a Moscow ballerina thanks to its precision jacket, which is drawn to a concentricity standard of ± 0.0003 inches. The MatchKing's … read more boat tail is angled to just as exacting a degree, and its weight is held to a standard of ±0.3 grains. All in all, a bullet simply doesn't get much more uniform than a MatchKing.

Sierra finally improved on the MatchKing the only way they could with the addition of a streamlined acetal resin tip. The Tipped MatchKing's meplat cleaves through the air to produce even less drag than its predecessor, making it a must for shooters seeking the flattest attainable trajectory.

Black Hills doesn't just select the best bullets when they load their Gold line of ammunition. They also ensure every brass case, non-corrosive primer, and charge of meticulously formulated propellant is a paragon of its class, and they subject each and every Gold round to thorough hand inspection before it's packaged.
308 - 168 Grain TMK - Black Hills Gold - 20 Rounds Comparisons
308 - 168 Grain TMK - Black Hills Gold - 20 Rounds Variations
308 - 168 Grain TMK - Black Hills Gold - 20 Rounds Questions and Answers
308 - 168 Grain TMK - Black Hills Gold - 20 Rounds Price History