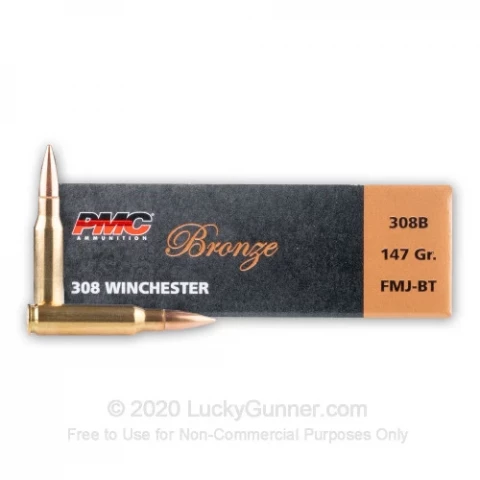 308 - 147 Grain FMJ-BT - PMC - 20 Rounds for Sale
Product Description
Newly manufactured by PMC, this ammunition is great for target practice and range training. It is both precision manufactured and economical serving as a great alternative to the steel cased products that are available. Each round contains a boat-tail bullet for improved … read more long-range accuracy seated in a boxer-primed, reloadable brass casing.
308 - 147 Grain FMJ-BT - PMC - 20 Rounds Comparisons
308 - 147 Grain FMJ-BT - PMC - 20 Rounds Reviews Rakkasan1/187
July 21, 2018
308 PMC ammo - impressed
I bought a box of this ammo to try. Indoor range, 50 and then 100 yards. 4 head shots, 2 dead center at 100, 1 in the 9 ring, 1 in the 8 ring. The other 16 were into the middle of the target, 10 in the bulls eye and 6 in the 9 ring. Pretty accurate, shot very clean (I was surprised by that part). Buying two boxes this time. I will update with a new review. Great
Mostly what I shoot. Does great at the range and not bad at 100 or 200 yards compared to match OVERALL A VERY GOOD BULLET FOR THE PRICE.
I RELOAD MOST OF MY FOOD FOR MY GUNS SO IT IS HARD TO BEAT HOME COOKING. LUCKY GUNNER IS A GREAT STORE TO DO YOUR SHOPPING AT. A+. Pleased with the ammo
Price and quality make range time possible Excellent Experience
Great Service, arrived quickly in good shape by UPS. Can't beat the price or service. Have not used the ammo yet will post another review after I have fired a few. Rushlimelite
December 4, 2014
Excellent Value and Service
Ammo in stock, readily available is huge in these unstable, and overtly political times for us law abiding gun owners. These rounds fire great through my AR10 platform and have had no problems. Having a great company like Lucky Gunner to step up and provide top notch products at great prices and backed by prompt service and fast shipping is what will keep me and plenty of my friends… read more coming back to buy... again and again. Deliver what they promise
I have nothing but good things to say about LuckyGunner. Easy ordering with a great selection makes it a top website. Delivery was quick. Had the order in a few days. I will be doing more business with LuckyGunner in the near future. bryantjb
October 24, 2014
Great Ammo
I have been using PMC brand ammo for two years now, among other brands. PMC is a great value and I have fired at least three-hundred rounds of .PMC .308 ammo through my rifle without resulting problems. I would also recommend PMC for your 9mm, .45, and 5.56/.223 as well. Works great for me
No problems. Less $$ than elsewhere. Pleased. Great ammo
Fired 150 rounds - no issues. Fast, fast fast delivery and great price. What could be better. Good price, good ammo
Put a couple boxes through my M1A this morning. It shoots better than I do. Good Target Ammo
PMC Makes good target ammo, shoots good at 100yrds out of my Ruger Scout- Would not recommend for distances over that with this rifle. Like always, price is always right,shipping is always fast,service is always the best-Only At Lucky Gunner
308 - 147 Grain FMJ-BT - PMC - 20 Rounds Variations
308 - 147 Grain FMJ-BT - PMC - 20 Rounds Questions and Answers
308 - 147 Grain FMJ-BT - PMC - 20 Rounds Price History